"Project management in the field of graphic design"
"Project management in the field of graphic design"
Recently finished reading the book Project Management in Graphic Design. At the end of reading, I immediately wanted to share my review.
Alpina Publishing House, one of the best business and niche publishers, but there was a mistake here. Graphic Design Project Management is the most useless and unintelligible book I've ever read.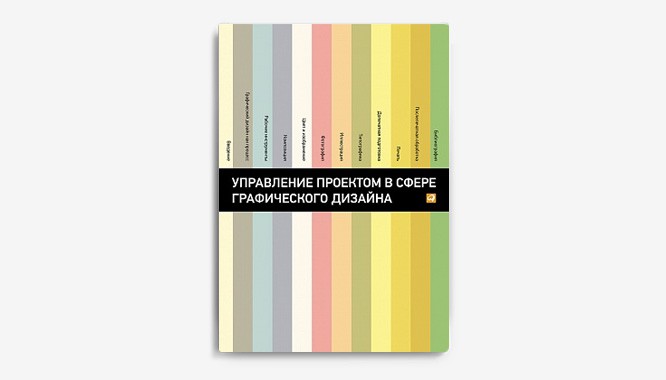 What is this book about
What is she like? Inside the book is divided into 6-8 sections. Project, digital, illustration, typography, print preparation, print, post print processing, etc. Each chapter has its own author. The book is essentially a compilation of articles for "beginners". Each section provides some "basics" of the field in the field of project management, digital, print, etc.
So the illustration section describes the programs in which illustrators draw, describes the drawing process from sketch to final work. The section on typography describes the rules for constructing lettering. The digital section describes monitors, and one section is even devoted to the jpeg, png, gif formats … And it seems that all this sounds very amusing, if the material did not even jump over the tops of icebergs, but over the tops of the tops of the tops of icebergs. Graphic design project management is not a book, but a hodgepodge of very poorly explained terms. The content of the book is similar to an encyclopedic dictionary. As much as it is interesting to read an encyclopedia or a user's manual, it is just as interesting to read this book.
The idea of ​​such a book could have appeared only in the depths of the publishing house. Let's write something general about design in general? Let's. Vasya, you find us an illustrator and type designer, I will find printers, and you Petya, go find someone who will tell you about the sites. As a result, 10 articles from different authors are carefully polished and leveled. At the output, we get something similar to the Instructions for using the dishwasher.
Who is this book for
Thus, we come to the main problem – the book does not have an audience. An advanced designer is not interested in this, and a book cannot teach a beginner anything. Only managers in design studios can recommend it. That is, people who came from the street should work in design, but they themselves are not designers. This is the category of readers I would recommend this book, and even then with a big stretch. This is a stretch, because the book (see point 1) is unreadable and is simply a listing of terminology by area. And it will be much easier and clearer to work in the design studio for at least a month in order to understand all areas in practice, than to spend time reading this book and still not understand anything.
The very idea of ​​creating a comprehensive book that covers all areas of graphic design is good. Only such a book should be 500-700 pages long. Our book takes 200 at most and constantly repeats itself. At the end of each chapter, "repetition of the material" begins, and in fact, copy-paste 3 more pages for the sake of thickness.
The most serious sin of the book is that its title does not correspond to the content and is misleading. After all, the title is about Project Management. Management, not execution. And the first chapter just begins with the stages of a design project. The first few pages tell about it, and then everything is reflected in a poorly written primer on design and printing.
I really liked one review on Ozone under this book:
Most useless book I've read. The title does not match the content. What projects? The book is just a collection of superficial information for … I don't know for whom. All designers (even beginners) already know this. Not a single page useful to me! Probably a book for those who are not familiar with computers at all. The design is excellent – the paper is thick, the edges are stylishly cut. For this point and throw. For this price, there are other, more useful books for aspiring designers.
Neither subtract nor add. I do not advise anyone to waste time on this book. Neither a beginner, nor a specialist, nor an interested person. Well, if everything that I wrote only added desire, then you can purchase a wonderful compilation of articles at the link below.
Buy the book "Project Management in Graphic Design"
The book "Project Management in the Field of Graphic Design" is available for purchase in the online store of the Alpina publishing house at a price of 725 rubles.
Free download of the book "Project Management in Graphic Design"
An excerpt from the book "Project Management in Graphic Design" can be read for free here.
Author: Dmitry Verovsky
…