Keri Smith Creative Disorder. Notepad with non-standard tasks "
Keri Smith Creative Disorder. Notepad with non-standard tasks "
A creative notebook is needed not only for people of art. This is an easy way to relax, change the way you look at things, it is a great therapy, an opportunity to get out of a creative crisis and overcome the fear of a blank sheet. And also a list of recipes on how to while away a boring meeting.
Who is this book for?
Notepad seems to be so versatile that it will suit everyone without exception. Write, draw and hooligan, well, who refuses?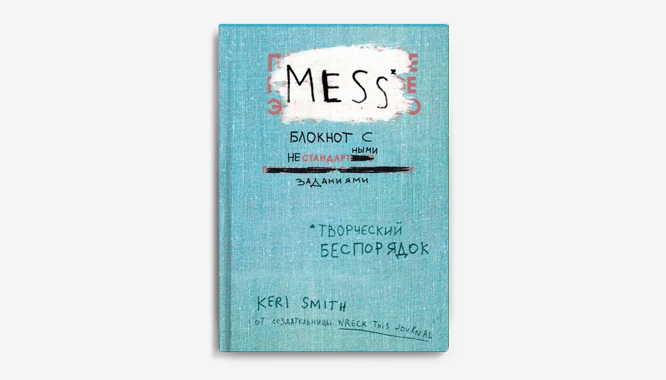 A creative notebook is ..?
… this is already a whole philosophy. These notebooks have a strong therapeutic effect and help creative people overcome their fears. The author of the book is Canadian artist Keri Smith. She was one of the first to create a book of this format, her notebooks conquered the world and entered the bestseller lists. The artist researches the development of creativity and teaches a course in conceptual illustration at Emily Carr University of Art and Design in Vancouver, she has created not only notebooks, but also applications, and is also a consultant to the Center for Artistic Activity and regularly conducts master classes based on her books.
Many of us are familiar with the fear of a blank sheet, a new notebook and a fresh sketchbook. We are afraid to spoil. Well, the most advanced fearsomers have learned to start with blank notebooks on the second page, but such a notebook is perfect for starting therapy. All pages in it have already been spoiled by the author. Slightly painted, covered with coffee or glue, stained with chalk. In fact, there is not a single blank page in it, all that remains for you is just to continue to spoil it. On each page there is some task, some of them seemed overly creative to me (for example, bury a notebook for three days; the author, but I won't find him then in three years!), And there are some really cool ones.
Here are some of the best ones:
make (sketch) a dining table with different utensils
change the image of a bald guy, whose portrait takes a whole page
create a story from a photo from an old magazine
make changes and give the image a completely different meaning
to dirty a T-shirt with an unknown youth
This creative notebook, like this book, has a foreword (as well as a page to write down her own foreword) in which Keri Smith shares her theory of deliberate mistakes and the benefits of this approach. And, besides, he tells in what techniques he will have to work and what it will give. The preface can be skipped, it is a full 8 pages. Although it seems to me more interesting to read it when you have already completed half of the tasks: it will help you look at what you have done differently and continue to damage the book with interest.
Video about the book "Creative Disorder"
How was the book made?
A5 paperback notebook. Inside – nice white paper, but the print, alas, is monochrome. Perhaps this is justified: the colors are left to the will of your imagination, but I would like to see such a notebook in color. Some pages have a "pinned" tag with notes for further research (it lists the names of the best designers of all time). And this is really great: your communication with the book continues behind its cover.
Outcome
This is a nice creative notebook from an author who is dedicated to exploring the development of creativity. Working with such a notebook is a great way to reach a new level of your own development, or just an alternative to an evening with serials. Affordable price makes the notebook an excellent gift "just like that" to yourself or your friends.
Buy Keri Smith's Creative Mess
The book "Creative Disorder. A notebook with non-standard tasks "is available for purchase in the Ozon.ru online store at a price of 350 rubles.
…