Katie Johnson "Artist's Sketchbook"
Katie Johnson "Artist's Sketchbook"
"Give a kick to the Inner critic under his imaginary ass, and along with everyone else who discourages drawing."
Open your eyes, look around and draw whatever you see!
Who is this book for?
For everyone who would like to lead a real live sketchbook, but face various obstacles on the creative path: from lack of time to lack of plots.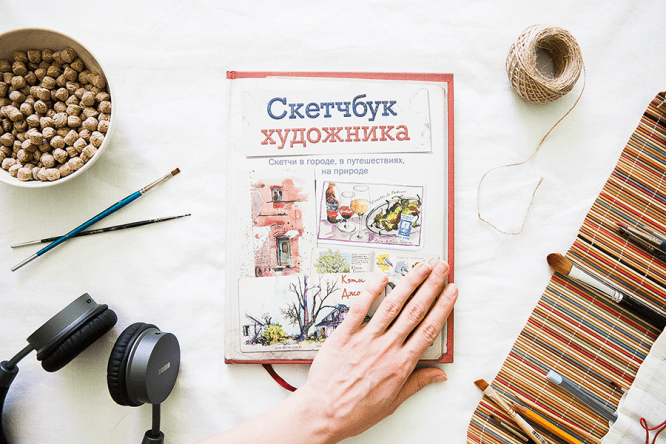 What is this book about?
"Artist's sketchbook" is a kind of continuation from the author of the book "Artbook: Your Life in Words and Pictures", released in 2015. Here, Katie Johnson moves away from a detailed consideration of the question of keeping a diary and its varieties, and pays attention to technique, materials and finding suitable subjects.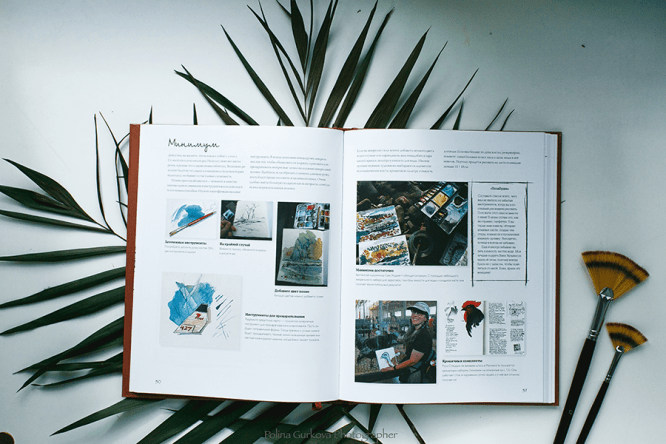 Plots
Many beginners believe that only unusual things or magnificent landscapes are worth painting. But Katie Johnson disagrees: if you wait for a trip to exotic countries or a particularly solemn event, then you'll sit there! Pay attention to the usual things, try to look differently at everyday landscapes, take a closer look at a flower growing near a house, a dog sleeping under a tree or the leaves of this very tree.
Here are some tips for finding a story-worthy:
pretend to be a tourist, look at familiar places with the eyes of a person who saw them for the first time
change the angle of view, look under your feet, is there an unusual cover from the sewer manhole?
explore new places, try to find a new way to work; look at the map of the city and look for a place where you have not been before
save the disappearing, capture in your sketchbook the bridge or building that is going to be rebuilt
pay attention to the animal world, draw the birds that live in the park nearby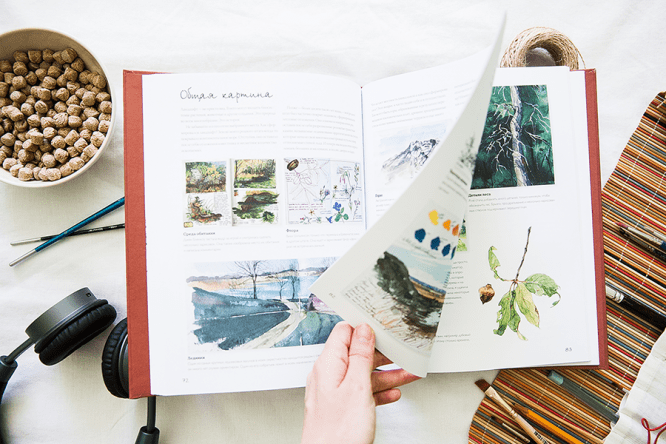 Materials (edit)
Part of Katie Johnson's discussion is about sketching materials. Of course, first of all, we are talking about compact materials that take up a minimum of space in a bag or even easily fit into a pocket. One of the most interesting solutions presented in the book is the crayons of watercolor pencils used as cuvettes of watercolors.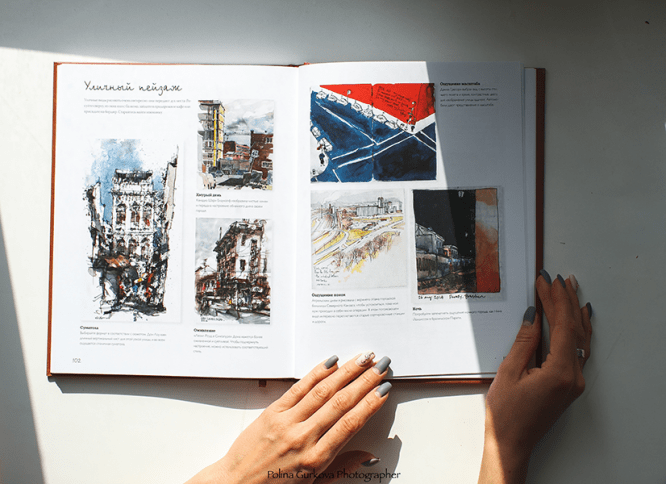 everyday
Daily training is the key to success, but where can you find time for drawing, if it is barely enough to take a breath? Katie Johnson suggests not making a whole event out of sketching, but drawing in between. The main thing is to prepare well. She, for example, has a small set of watercolors and a sketchbook always in the kitchen and in the glove compartment of the car. Do not complicate, do not take the first experiments too seriously, draw even on a napkin during lunch, because 10 of these sketches is much more than nothing. And remember, while you are not doing anything, others are going forward.
Outcome
A good guide for beginner sketchers to look at the world from a different angle. This book is about your individual creative path and artistic style, which will be a nice gift for your inner artist.
Buy the book by Katie Johnson "The Artist's Sketchbook"
The book by Katie Johnson "The Artist's Sketchbook" is available for purchase in the online stores Ozon.ru or Labyrinth in paper format at a price of 830 rubles or in electronic format for 450 rubles.
Author: Evgeniya Suvorova
…