How to find a good designer
How to find a good designer
Translation of an article titled "How to hire designers" by Paul Adams. Translated by UXDepot with the approval of the author.
---
If the app is stylish and beautiful, but not functional, it's a failure. If he clearly fulfills the assigned tasks, but apparently unremarkable, success awaits him.
My previous article on how people admire graphic design, forgetting about functionality (Dribbblisation of Design), sparked a serious discussion: someone supported and gave their examples, someone disagreed and put forward counter-arguments. I would like to re-emphasize my point of view, explain what prompted me to write that blog post, which is actually not about Dribbble at all, and tell what criteria we are guided by when recruiting a team.
Misconceptions about interface design
For a very long time, many people did not understand and underestimate the importance of effective interface design for applications. Designers complained that their fellow developers were asking them to come up with only a visually beautiful picture for an almost finished product. They even came up with a nickname – "Photoshop monkeys". However, they initially understood that design is not just work in a graphic editor and therefore immediately began to search for a new team.
Many have tirelessly tried to shake off this misconception and make it clear that design is not what a product looks like, but how it works. Steve Jobs put it best:
Most are mistaken in their belief that design is just an outer shell. In fact, this is not the case. This is not how the product looks and feels. Design is how it works.
Slowly but surely, app companies realized that those who prioritized interface design were superior to the competition. Apple is the most striking and successful example.
Many vacancies for interface designers began to appear, because many companies knew and understood that without good design they risk losing competitiveness. Since this was new to them, they vaguely understood their needs and turned to sources such as Dribbble to find "good designers." But the complexity of the concept of design is not revealed on Dribbble, which is the "cycle of delusions":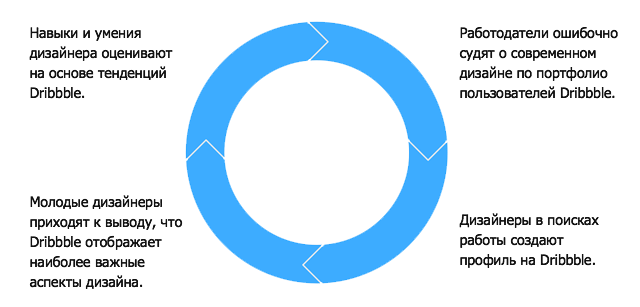 The consequences of such a cycle are detrimental to the development and understanding of design, because they cultivate the myth that only the aesthetic component is important. Employers hire graphic designers, confusing them with interface designers, and imagine the overwhelming success of the product, but it doesn't.
Graphic design alone doesn't work
In the previous post, I analyzed the following stages of creating an interface:
Formulation of the problem.
Determination of the required elements and connections between them.
Interface design.
Graphic design.
None of these processes exist separately from the others. Graphic designers who can design great interfaces understand the need for complex interactions between all of the above steps. The seasoned front-end designers I was fortunate enough to work with specialized in one or two processes and were very well versed in the rest. It would be a mistake to pay attention to only one stage, because working with all four in combination will bring the best results.
Choose a designer according to your tasks
When I want to hire a designer, I am looking for someone who has an excellent understanding of two of the four above processes and is very keen to master and learn how to work with others. I was recently looking for a designer with a profile like this: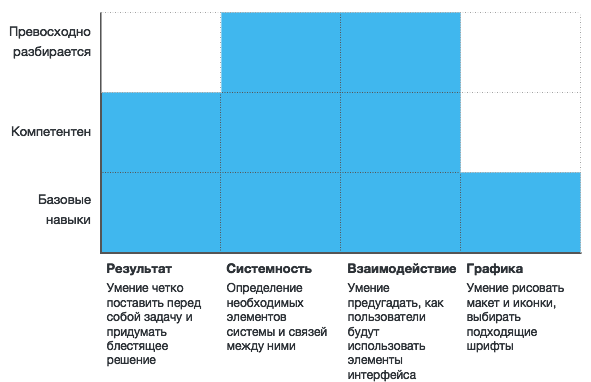 Before you say: "We need a designer!", Think about what kind of specialist you want to join the team. For a startup, the strategy chosen by the head determines the criteria by which a designer will be hired to the team. If you want to hire a person who is excellently versed in all four processes :), you should know that these are extremely rare: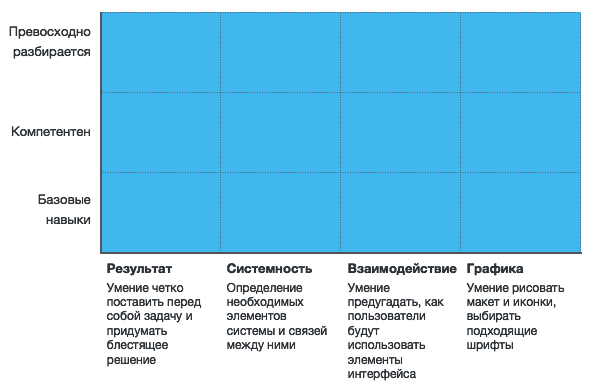 Graphic design is closely intertwined with interface design. Consider animations, state and data changes. This is not a print design. Appearance and functionality should be comparable. If you're a graphic designer and want to learn more about interface design, I recommend reading Dan Saffer's book Microinteractions.
Some people argue that graphic design is the main thing because a nice look attracts people's attention. I do not agree. Undoubtedly, graphic design is very important, but people are attracted by something that has value in itself – what is this product for, what benefits it will bring, in other words, they are attracted by the fruit of the work of interface designers. From time to time we have seen the success of inconspicuous products (like Craigslist) and the failures of aesthetically pleasing ones (like Color). Beautiful things attract attention, but they will not be able to keep it, if apart from the graphic component there is nothing worthwhile. All levels of design are important.
Don't Believe What They Say About Dribbble, It Is Misused
Let's talk about Dribbble after all. My previous post was not an attack on it as a product (I would really like to hear the opinion of Dan Sederholm and his team), I focused on more general issues. It is necessary to break the "cycle of delusions" about the concept of design.
The main thing for me is not what people say about Dribbble, but what they use it for. When you develop products of this kind, you cannot predict how they will be used, because as it develops, the project adapts and evolves. Dribbble is said to be a place to create, showcase and share work, so-called "Twitter for Designers".
For me, all these phrases are meaningless. If this is a site about the design process, where are the sketches and raw sketches? Dribbble mainly features perfectly executed and polished works, pixel by pixel. If the main message is visual inspiration, great, but then it feels more like art than design. In this case, Dribbble is not the right place to find designers for your team. Talented artists, good illustrators, no doubt. But not designers.
I believe Dribbble should act as a way to attract employers to a website that contains your thoughts, sketches and illustrates your workflow.
Popularity on Dribbble doesn't mean you're a great designer
Of course, Dribbble has some great designers and examples of non-graphic work (thanks to DC Townson and Alex). But these are rather exceptions. In most cases, a popular Dribbble portfolio means that you are good at drawing illustrations and icons, up to date with current graphic design trends, and in some cases that you are good at one of the four stages of interface design. But there is no connection between popularity on Dribbble and the ability to create great interfaces.
It is important to break the cycle of delusion
I don't care about Dribbble or any other site like that more than the need to break the cycle of design misconceptions. It worries me that young designers do not understand the power and possibilities of interface design. I don't want them to be hired for deliberately failed projects, so that they create unnecessary and incomprehensible products to anyone.
I want companies that invest in design not to fail because they mis-decided which designer they want. The main thing is to understand the essence of design, to realize that this is a principle of operation, and not an outer shell.
…