Best photo editors for computer
After a photo shoot or a trip, it is worth processing the received frames. This will help you fix bugs, tweak lighting and colors, and improve the quality of your print or social media content. To edit data, you need a convenient program. When choosing the best apps, we took into account several criteria:
• built-in effects and auto-correction options;
• support for all popular formats;
• tools for retouching portraits and removing unwanted objects;
• user-friendly interface and stylish design.
In this article, we'll take a look at five popular desktop applications. To learn more about the best photo editors in 2022, read our in-depth review here.
Gimp
A free image editor suitable for fine-tuning photos, designing collages and creating illustrations. It contains all the necessary functions for editing photographs: support for layers, brushes, filters, plugins. GIMP can also retouch, crop, adjust the color of frames.
The editor is free to download for Windows, macOS, Solaris and Linux operating systems.
Pros:
• correction of perspective distortions;
• mixing color channels;
• correction of minor bugs;
• support for popular formats: JPEG, GIF, PNG, TIFF, etc .;
• customizable interface;
• open source code that allows you to extend the capabilities of the software through plugins from third-party developers.
Minuses:
• mastering the program may take time;
• not suitable for working with vector graphics;
• users note the frequent occurrence of failures.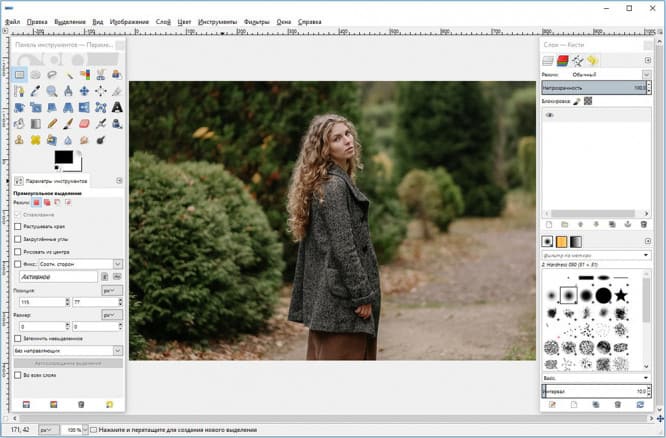 Gimp
The GIMP application has a confusing and noisy interface. If you are a novice user, it is better to use the PhotoMASTER editor. It provides a simple Russian language menu, auto-correction options and a large collection of built-in effects.
PhotoMASTER
A program for editing and retouching images for Windows devices. PhotoMASTER allows you to perform basic processing: adjust the lighting and shades of the material, apply effects, crop the picture, sharpen, etc. You can also apply advanced options: correct geometric distortion, replace the background, eliminate digital noise, change facial features, etc.
Pros:
• auto-correction of exposure, contrast and dynamic range;
• presets for quick retouching of portraits;
• background replacement using a step-by-step algorithm;
• point data processing;
• an extensive collection of photo effects;
• catalog of frames, stickers and text styles;
• batch processing of media;
• user-friendly interface in Russian.
Minuses:
• photo editor is available for free for a trial period.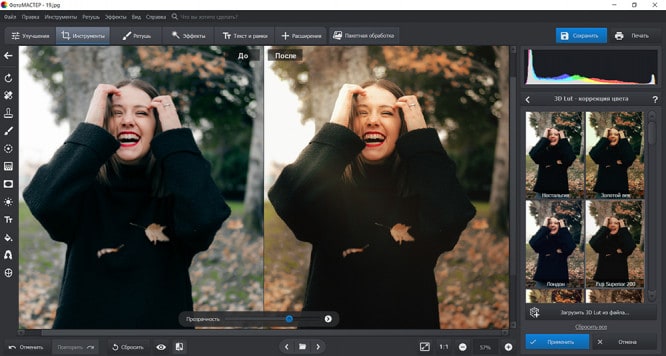 PhotoMASTER
Krita
Free application for digital illustration and animation design. It is distributed open source, which will allow you to add new tools through third-party plugins. Krita supports image loading and processing, works with layers and masks, offers a wide range of filters. You can also perform basic photo editing in the editor: fix defects and lighting, crop an image, add text, etc.
Pros:
• a collection of brushes;
• adding shapes and vector elements;
• creation of frame-by-frame animation;
• selection and rendering of objects;
• Works on Windows, Mac and Linux.
Minuses:
• the editor is primarily designed to create illustrations and design vector graphics;
• software is demanding on computer resources;
• there are no options for retouching and quick selection of objects.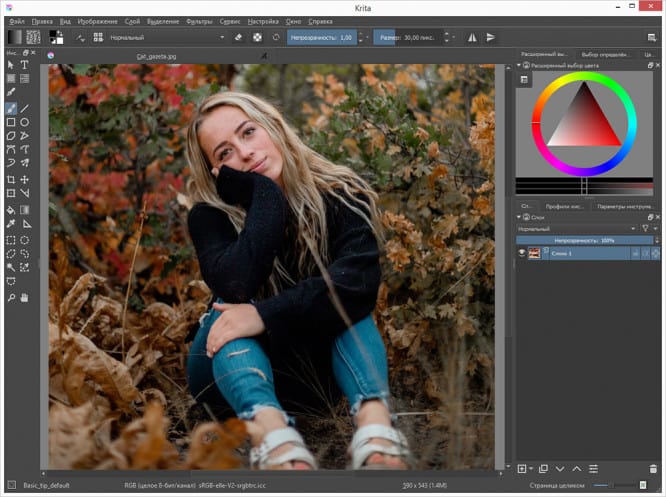 Krita
Luminar AI
Artificial intelligence based photo editing software. Automatic tools make it a great choice for beginners. Luminar AI allows non-destructive layered editing. This means that you can undo any actions and return the photo to its original state without affecting the upper layers. Also in the software you can correct RAW files, apply filters, replace the sky and retouch portraits.
The software can be downloaded for free with limited functionality. It also has an extended paid license. You can buy it for 5210 rubles.
Pros:
• templates for quick correction of images;
• an extensive collection of photo effects;
• automatic retouching of portraits;
• rapid change in facial features and figure;
• creating a bokeh effect;
• work with layers;
• software can be installed as a plug-in to Adobe Lightroom and Photoshop.
Minuses:
• high price;
• English-language interface.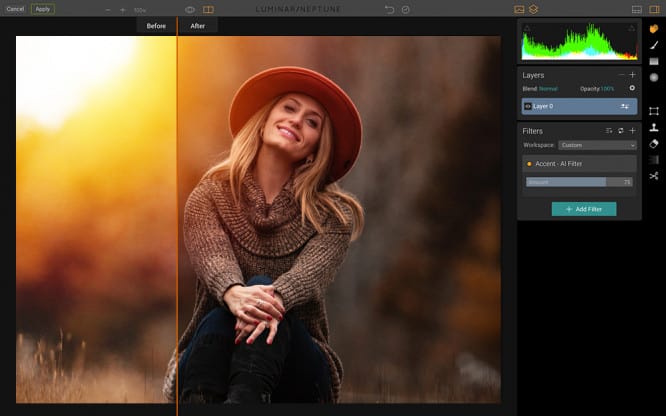 Luminar AI
The Luminar editor is notable for its high price – a license for one user will cost 5210 rubles. If you need a more budget-friendly editor, use the PhotoMASTER app. It is free to download and has options for retouching frames, face and body shaping.
Paint.NET
Illustration drawing and image processing software for Windows users. Paint.NET lets you apply filters from a built-in collection, use brushes to draw shapes, and the curve tool to draw splines. The software also offers functions for selecting objects, cloning textures, replacing colors.
Pros:
• cropping the picture;
• fast selection of elements;
• work with layers.
Minuses:
• the editor does not allow performing complex creative manipulations with photographs or high-quality retouching of the skin;
• no support for RAW files;
• to use, you need to install the latest version of the NET Framework.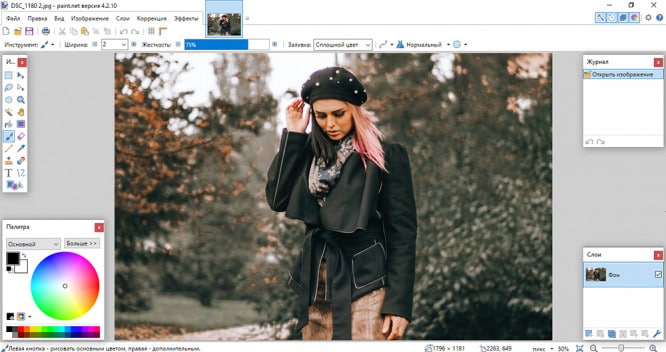 Paint.NET
Conclusion
Now you know which applications you can use to edit images on your computer. If you are a novice user, then you need a program with auto-correction functions and built-in effects. The best solution would be PhotoMASTER. It features a user-friendly Russian-language interface and offers simple tools for retouching photos, replacing the background, removing objects, etc. Download the editor for free by following the link at the beginning of the article and improve the first frame!