8 services for creating presentations
8 services for creating presentations
Making presentations is one of the most common tasks in companies. To speak at a conference, to attract funding, to defend a new project, to make a commercial offer, not a single significant action is complete without presentations. The success of a business depends not so much on the idea you present as on the presentation you are preparing.
In particular, the shell plays a huge role – presentation design, visual communication with the audience. Recently, many new presentation programs have appeared and current ones have been substantially updated in an attempt to respond to changes in the format of business communications.
MS

PowerPoint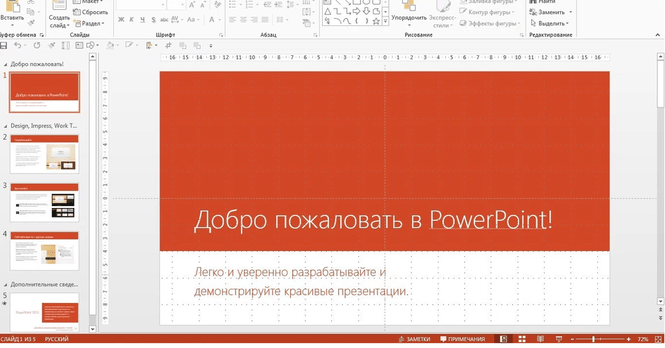 The first, of course, is the legendary software from Microsoft. None of the programs other than Power Point have been accused of slaughtering millions of people from presentations. But the point is not at all about Power Point, but about how it is used. Actually MS Power Point, especially the 2013 version, is a powerful tool for the non-designer. The arsenal of the program includes all the necessary tools for creating static and animated slides. True, the interface is very heavy and contains many unnecessary functions that disorient the user and contribute to the creation of a disgusting design.
The program is paid, for personal use the best option is to buy Office 365 for 2499 rubles per year. In addition to the power point, the package will include other programs MS Office, solid cloud storage on OneDrive, and access from 5 devices.
By the way, Power Point is available for free online, and was also presented on the iPad (for Office 365 users and corporate users with a similar option, this infuriated the public enormously, which is why the program's rating in the App Store instantly landed at the level of 2-3 stars). To tell the truth, in both cases the toolkit of the program is very limited, many vital functions are not represented in the cloud and on the tablet.
AppleKeynote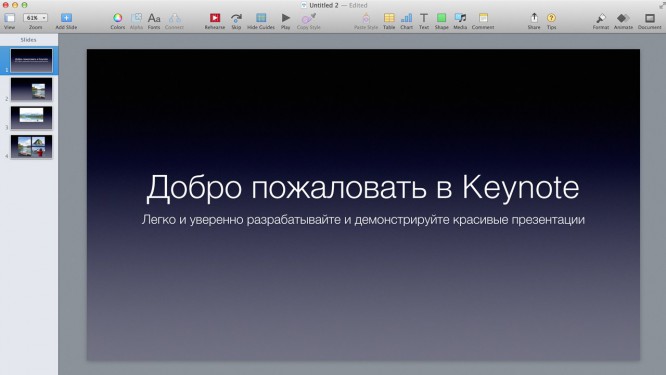 Main competitorMS Power Point, which in the near future is predicted to dominate both in the business environment and in personal use. The key difference is Apple's famous "ease of use". Make a presentation in Keynote once, and I don't have to explain that the functionality of the program is incredibly simpler and more practical. With such an alternative at hand, I begin to think of Power Point as a ridiculous misunderstanding, whose existence is due only to the widespread adoption of Windows (in fact, it is).
Add to that the chic designs of slide templates and graphics from Apple's top designers (though Keynote does make awful presentations, too). And also – free distribution of the iWork suite of applications (which includes Keynote) for everyone who bought an apple device, starting in the fall of 2013. Let's not forget the excellent synchronization of all documents between iCloud devices and the cloud version of Keynote, which is in active beta testing and already close to the desktop solution. Do I need to further explain that Keynote is an order of magnitude better and more efficient than its main competitor?
Google Slides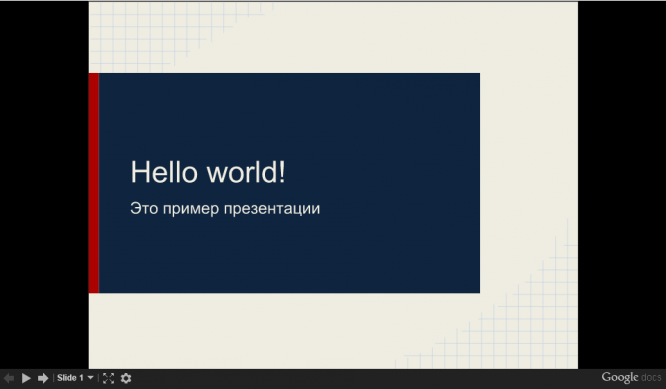 You can also create presentations in the free Google Drive cloud office. In fact, creating presentations in Google Drive is the same as in Power Point, only online and with a slightly modified and slightly stripped-down interface. Although, I must say that there are clearly more functions here than in the online version of the power point. If you have a licensed Power Point 2013, then you know that collaboration and annotating slides are available there too – exactly the same features are available on Google Drive, designed to simplify collaboration on documents.
To summarize, Google Slides is a "Power Point for the Poor": free and with limited features, but allowing you to solve the basic tasks required to create slide presentations. Although, if you try hard, you can do crazy things even in Google Drive!
Prezi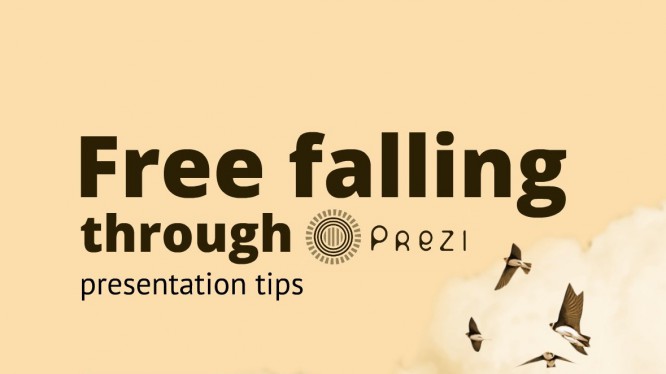 Fashionable abroad software for creating flash presentations. A special feature of Prezi is the slide transitions. The entire presentation is created on one single canvas, over which, figuratively speaking, the camera revolves and zooms in and out of certain areas. Thus, a bird's-eye view of the picture is very clearly visible, that is, a look at the presentation as a whole, as well as the structure of the narrative is clearly visible. To make life easier, Prezi has a variety of templates with ready-made visual metaphors for your presentations, or you can create a visual skeleton yourself.
As for convenience, it is not so easy to fully master the program due to its functional features. But not to say that it is difficult. Another thing is that it is unlikely that this tool can be popular in a business environment for constant use – Prezi effects are useless in all sorts of reporting presentations or commercial offers. Rather, it is a tool for impressive presentation presentations.
There is a free account, but it is limited by the publicity of all presentations and disk space. An advanced account will start at $ 4.92 per month. There are also special offers for educational institutions and businesses. There is a mobile application for iOS (iPad / iPhone), as well as desktop solutions for PC / Mac. Otherwise, you can create presentations online.
In general, the application is very interesting and peculiar, but it is more suitable for exceptional cases than for permanent use. And you can see selected works of users, which are selected by editors, here.
Haiku Deck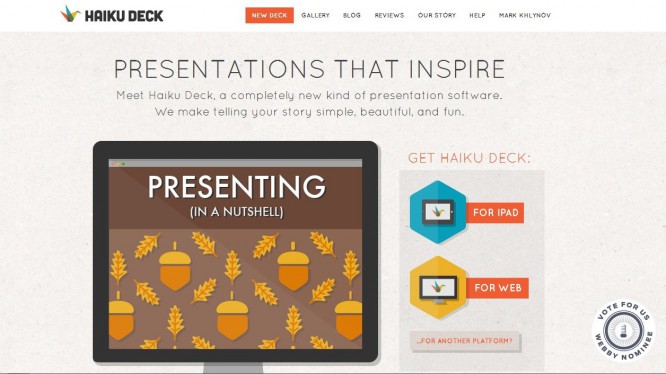 Haiku Deck is an attempt to simplify the creation of the presentation and the content of the slides in general. The program is based on the principles of Zen presentations, which were formulated by the famous foreign expert Garr Reynolds. What is their essence? The main idea is the minimum amount of information on the slide. One idea per slide and one renderer (image, diagram, or diagram) to support it.
Haiku Deck makes it extremely easy to create presentation slides and uncomplicated presentations of your ideas that do not contain a lot of information. The interface is as intuitive as possible, there are quality templates for design. However, the editing of templates is limited: the developers, thus, try to maintain the quality of work so that the user does not end up making the template look terrible.
The application is free, there is an iPad version and the Web platform is being actively tested. Apparently, it is planned to make money on paid additional templates, which can be purchased for a few dollars.
HaikuDeck is perhaps the simplest solution for those who want to prepare the most simple and colorful presentation without any hassles. You can look at the creations of different authors here.
Slides
Slides is a new, modern presentation tool that focuses on the digital environment around us. All presentations are created in Html, which means they can be read from any device. HTML-encoding also allows you to customize the presentation in any way you want (you can go in and edit the code), as well as embed almost any content from the Internet. You can present directly from your web browser, control the presentation from any device, or download the offline version of the presentation by syncing your account with Dropbox.
The interface of the graphical editor itself is a little complicated and is still not perfect in some places in the set of standard functions, but the toolkit, in general, is very interesting. Non-linear slide creation alone is worth a lot. Now there is no need to make your story linear by flipping through slides from left to right: in Slides you can go in any direction (left, right, up and down), creating presentation "layers" that create easy-to-speak slide navigation.
Slides has a free version with the most basic features, and a full-fledged product will cost from $ 6 per month. By the way, all presentations are created online, in your web browser, there are no desktop or mobile solutions for creating a presentation in Slides yet – only viewing is possible on other devices.
In general, the instrument is very interesting and, quite possibly, the future belongs to it. If your needs lie at the intersection of Slides' capabilities, then we highly recommend trying to make a presentation here. Examples of presentations can be seen here.
SlideDog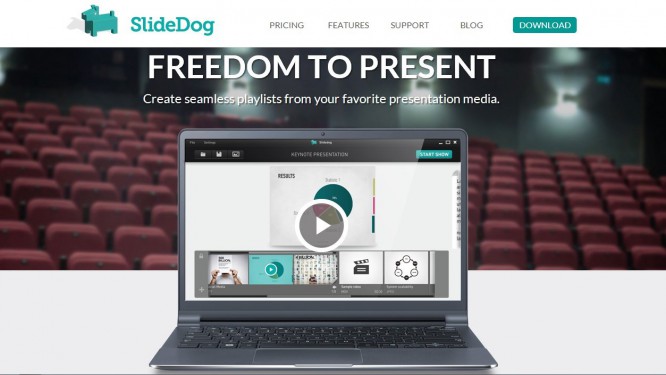 SlideDog is not the pure presentation editor you are used to in PowerPoint or Keynote. You won't be able to create slides in it, but it can be used to make a handy playlist of all the content you show in your presentation. PowerPoint and Keynote presentations, PDF files, Prezi, videos, images and web pages can be merged into one presentation by arranging the information in the desired order. No more switching between programs and problems with showing any materials!
All in all, this is a very handy and useful resource for all speakers. There is a free, but very limited version. Professional service subscription starts at $ 8.33 per month. You can work online or download the program on Windows. The creation of a Mac application is in full swing.
Projeqt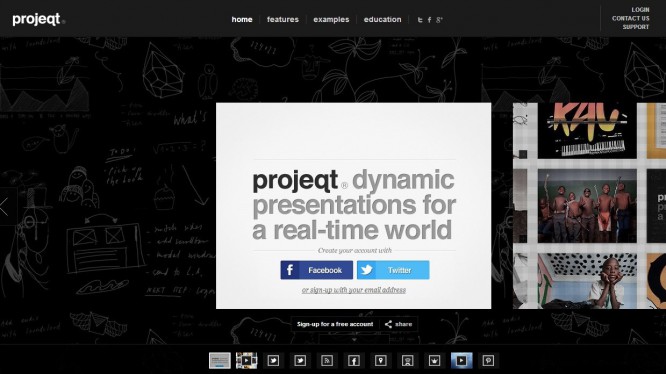 A tool similar to Slides in its adaptation to the digital environment and the use of all kinds of content from the Internet. Projeqt has the ability to insert almost any interactive element from the web to bring your presentation to life, including live RSS feeds, maps from Google, online polls, videos from Youtube or music from SoundCloud. Like Slides, the program allows you to create "layered" presentations with navigation in any direction, contributing to storytelling. You can view and, most importantly, edit the presentation from any modern device with Internet access.
The interface is quite simple and easy to understand. Among the interesting features: there is the import of PowerPoint and PDF-files, which is very convenient, as well as the insertion of a presentation anywhere on the Internet.
Projeqt is completely free and is widely used for educational purposes and speaking at conferences. If your presentation is heavily tied to digital, then Projeqt is designed especially for you.
Source: slidesign
…