30 online sources of inspiration for web designers
30 online sources of inspiration for web designers
There is no shortage of websites for designers now – there is only a shortage of time to look through them and find something worthwhile.
If you have no time to choose such sites, Christopher Ratcliffe, who is the deputy editor at Econsultancy, has already made his own selection from many useful resources!
Some of these sites and resources are used in the work of the designer on a daily basis, others – not more than once a week. With their help, you can stay on trend in web design news in just 30-60 minutes a day!
If you often need fresh ideas or something suitable as a foundation for your own project, then this list is worth bookmarking.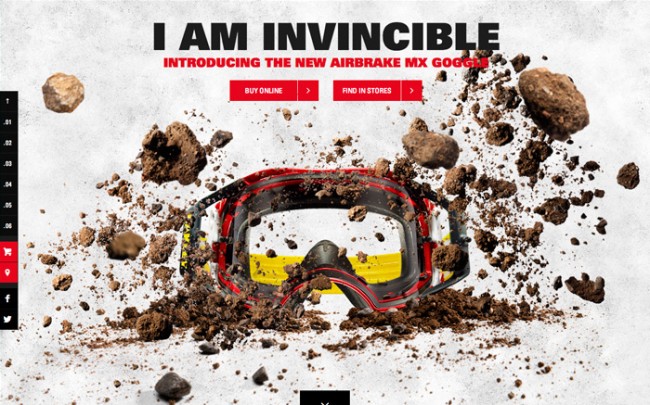 Inspiration
Awwwards
The first site on the list of "places to go for inspiration". This is where Christopher looks for new ideas.
Updates on Awwwards are daily, and the examples are categorized from entertainment to real e-commerce gems.
CSS Design Awards
Like Awwwards, the CSS Design Awards give out awards for the most beautiful and original sites. To win, you only need to fulfill one condition – maintain the integrity of the design. No one knows for sure what is meant by this definition, but everyone can admire the design of the participants.
One page love
The basic principle behind the creation of any website is simplicity. And what could be easier than limiting the site to one page? Of course, creating a one-page website comes with certain challenges. But One Page Love is a resource that shows how to correctly and beautifully create landing pages, portfolios, step-by-step forms, registrations and stores based on just 1 page.
Most often, one-page sites are developed with a specific purpose – to advertise a product / service or to entice a user to subscribe to a newsletter. The stakes are high, therefore, when undertaking the creation of such a site, remember that the design must be accurate and "hit right on target" (more precisely – to the target audience) – this is what will help you find the One Page Love resource.
UI Parade
This resource differs from others in the abundance of functional elements, including: pagination, search bar, current status indicators, etc. In order to create an attractive, fluid and consistent interface, the smallest details must be considered, and UI Parade will help you with that. All examples from the collection will help you create an interactive website based on the best practices offered.
Niice
Niice themselves position themselves as a "tasteful search engine." Collected here are a variety of community images that you can freely use on your projects.
Designspiration
Another great source of design ideas that anyone can work with fearlessly is Designspiration.
Muzli
The Google Chrome plugin Muz.li replaces the browser home page with an aggregator of design ideas, where examples from multiple sources go. In particular, the plugin is connected to Awwwards.
Awwwards Creattica
This site not only showcases, but also rewards the very best developers, designers and web agencies from around the world. The jury is composed of designers, journalists and agencies, who rate participants according to strict rules and award points for categories such as design, creativity, usability and content. Entries are expected to win if they not only look good but function as intended.
Creattica
Here you can find almost everything, from UI elements, logos and icons, to showcases of ready-made websites and applications. Creattica is an open community where everyone can submit their work and vote for what they like. It also has an extensive and growing collection of free samples that you can download and start working on a new project right away.
PSDBucket
One of the best features of PSDBucket is the selection of templates by color. You can also adjust color uniformity and minimum intensity, which allows for a more targeted search for items for your designer collection.
Designers' List
This is a list of resources for designers, where you can find everything for a designer: from blogs to inspirational communities, from free resources to CSS galleries, fonts and more. It will take a lot of time to view all the materials posted on the links in the Designers' List. But you're guaranteed to find something inspiring and rewarding.
Free Images
Freepik
Freepik hosts free graphics that can be useful to designers, including vectors, icons, illustrations, and photographs.
Freebiesbug
Freebiesbug is giving away thousands of free PSD mockups and other useful web design resources.
Graphic burger
Graphic Burger has a daily selection of collections of free icons, photographs, dramatizations and other graphic goodies.
Palette
Color.
With Color. you can easily collect and save color combinations. Move back and forth to adjust HUE, up and down to adjust brightness, wheel to adjust saturation.
Pltts
Pltts' collection of commonly used palettes can evoke the most amazing associations. I think today I will choose Wasabi Suicide.
Adobe color cc
The Adobe Color CC palette combinator has been renamed from Adobe Kuler to something more meaningful. Along with the rebranding, it received a powerful "wheel of flowers", so it's a sin to complain.
Mobile devices
Pttrns
On Pttrns, you can see how other mobile designers are solving user interaction problems, not just original approaches, but also convenient ones. Filters are available by device, operating system, year and available functionality.
WTF Mobile Web
Or "Don't Do When Designing Mobile Sites." Collected here are vivid examples of terribly inconvenient design solutions.
Capptivate
The richest source of inspiration for mobile website designers. Capptivate supports filtering by templates and used components.
Christopher discovered this tool quite recently, although it has been present in Google Chrome since late 2013. It is enough to right-click on the page content and select the last item "view element code", or press the combination Ctrl + Shift + C. On the panel that appears, the icon of a mobile device will be clearly visible on the edge, in which you can select a simulation of any device you are interested in.
Econsultancy's Mobile Web Design Best Practice Guide
If you are subscribed to Econsultancy, then it does not hurt to download the book describing the best mobile design practices. 200 pages of pure knowledge!
Google's Good Mobile App Guidelines
If you're entering the app marketplace, Google's best design practices are readings that must not be abandoned.
User interaction
Hover states
A collection of new, unusual interfaces and design solutions for interacting with it. Each Hover States example has a handy video demo.
Little big details
To all lovers of meticulous work on design, Little Big Details is dedicated – a place where minor details become the supporting structure of the design.
UXPin
On UXPin, you can find commercial designs for various platforms, but we are interested in the site due to free guides that only require registration. In particular, you may like the sections on interfaces for desktop and mobile.
Community
Behance
The Behance Community is a free platform for website designers to express themselves, where everyone can share and appreciate their work.
Dribbble
Basically, Dribbble is a show-and-tell service for designers to get quality feedback on their work.
What to read
Smashing Magazine
Smashing Magazine publishes helpful articles on design and code, guides for creating user interfaces, and working with WordPress. Updated daily.
Designer News
Kind of like Hacker News, but for designers. On Designer News, a community of professional designers shares interesting links and experiences with others.
User Testing Blog
Check out the User Testing Blog for a huge collection of responsive design articles that answer all your mobile support questions.
Source: spark.ru
…