Susan Waynshank's 100 New Design Principles
Susan Waynshank's 100 New Design Principles
Hurray, it happened! At the beginning of the summer, the second part of Susan Weishank's famous book "100 New Core Principles of Design" was published and now it draws on modern research in the field of psychology and design from 2010-2015.
4.5 years have passed since the publication of the first book "100 Main Design Principles", and the studies, the results of which were presented by the author, will soon celebrate the first anniversary – 10 years.
Times have changed, people have changed, the Internet has changed – this prompted Susan Waynshank to gather new test subjects, conduct research, and release a new collection of useful design tips.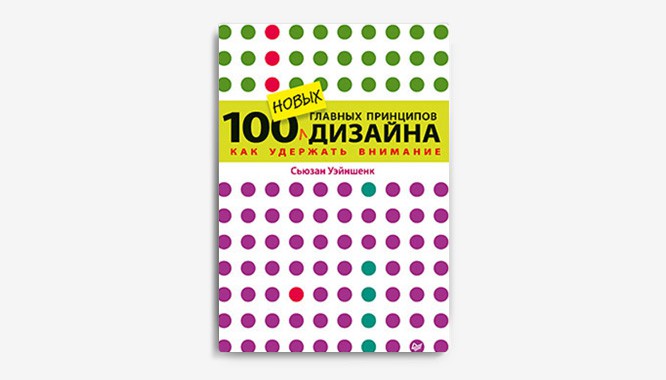 Who is this book for
If the first part was more focused on designers, whose task is to design the design of an online store so that the goods are bought, then the second book will be extremely useful for online marketers and copywriters, because answers many unasked questions: when to launch planned promotions, how not to sit without orders on holidays, why verbs are pushing to perform actions, and many, many others.
As in the first part of "100 Main Design Principles", in the new edition all theoretical statements of the author are supported by scientific substantiation: either by polling focus groups of 3,000 people, or by examining the subject's brain while performing some tasks.
How this book will be useful
For beginners in web design, I first of all advise you to read the first and second parts together – this will allow you to cover the maximum number of topics related to both the Internet and the work of a designer when creating a layout: thinking through user paths through the site, spelling the titles correctly (yes , this is the work of a designer, if there is no copywriter in the project), the selection of "selling" colors and many other aspects of design.
For some practicing web designers, the book "100 new main principles of design" may seem like a collection of trivial facts: yes, on the one hand, this is so, I learned most of everything in the book from my own experience, but, you must admit, it is always nice to have at hand a unique cheat sheet to refer to when a problem occurs? ?
Therefore, I would position the book "100 new main principles of design": a cheat sheet for solving 100 non-trivial problems of web design, which is worth having at hand – you never know what.
Buy the book "100 new main principles of design"
Get Susan Waynshank's 100 New Design Principles. How to keep your attention "can be found in the online store Ozon.ru at a price of 527 rubles or directly on the website of the publisher" Peter "at a price of 499 rubles. By the way, according to the code infographics You get 20% discount for any order on the website of the publishing house Piter.com 🙂
…