Susan Waynshank's 100 Essential Design Principles
Susan Waynshank's 100 Essential Design Principles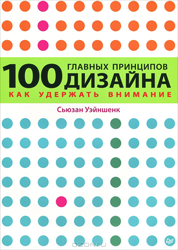 A new book from Susan Waynshank called 100 Design Principles will be of interest to all those who are engaged in graphic design and try in every possible way to draw the viewer's attention to the necessary details in their work.
In fact, the title of this book has not been translated very well (or very accurately). The original title of the book is "100 Things Designers Need to Know About People," but this little jamb with the title does not in any way affect the excellent content of this book.
Almost all aspects of human perception are analyzed in the book: from visual to sensitive – what exactly motivates a person to make certain decisions.
The book contains many illustrative examples and studies on how people perceive the world around them, what they pay attention to in the first place, and what they prefer not to notice. The problem of correctly directing the viewer's attention in all areas of design is very important, but most of all this factor is important in the design of interfaces and good infographics. With interfaces, almost everything is clear: in a good interface, a person should not have a single question about where to click in order to get exactly what he wants.
But in infographics, the factor of visual perception is slightly changed, because if we consider a static infographic (picture), then the user has no choice where to click or how to do something. All that the viewer can do is perceive the information given to him. And if he sees something incomprehensible to him, then the explanation of this incomprehensible should be located in the immediate vicinity of the commented object. Thus, you cannot force the reader to rush around the whole picture in search of a comment, because while he searches for this comment, he can completely forget what was not clear …
Grand total
The book is very informative and useful to absolutely everyone, even those who are just thinking about the profession of a graphic designer in the field of interfaces or infographics. In any of these areas, it is extremely important to correctly manipulate the viewer's attention, not to direct his attention by force, but only to push him to the correct reading of the information.
You can buy the book at Ozone or in many other stores. I advise you to buy the printed version, because this book will very well be able to replenish your home collection of professional literature.
You can look at the quality of writing and style of the text in pdf (2.3 MB) with excerpts from the book.
…