Simple video editors for beginners
Thanks to the advancement of technology, almost anyone can shoot high-definition videos on a smartphone camera. However, each video needs processing, and it is difficult for novice users to find software that would combine convenience and functionality. In this review, we looked at which video editing software is suitable for beginners and will help you create any type of video: from mini-movies to short stories.
Pinnacle studio
Pinnacle Studio is one of the few professional video editors that is easy to use for anyone, even with absolutely no editing skills. The interface of the program is extremely simple and intuitive, so you can understand the principle of operation in a few minutes. At the same time, the editor's functions include such advanced features as 360 video processing, motion tracking, color settings, multicam mode, split screen and much more. The only thing that can upset newbies is the high cost of a license (from RUB 3,300). Also worth noting is the high load on the system processor.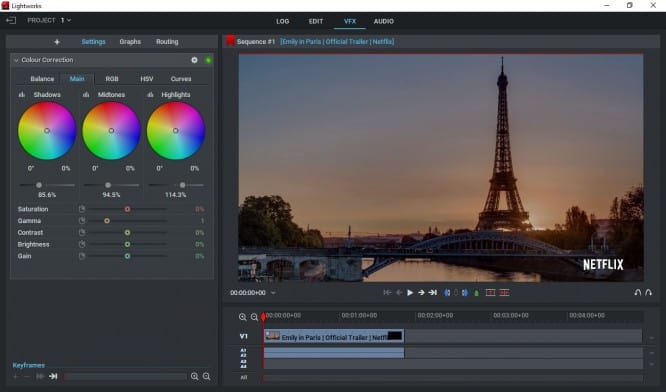 The main advantages of Pinnacle are:
Extensive collection of templates, effects and transitions;
Working with layers and masks, blending modes;
Unlimited adding tracks;
Work in multicam mode (up to 24 cameras);
Advanced work with audio and collection of free tracks.
VIDEO INSTALLATION
Like the previous version, VIDEO MONTAGE is suitable for both beginners and professionals. The video editor has a user-friendly interface, and built-in tips will make life easier for those who have never edited a video before. The program works with all popular video formats, allowing you to combine video clips with different extensions in a project, and also includes a module for capturing material from a webcam. There is also a collection of ready-made materials: video postcard templates, videophones, animated titles and a library of audio tracks.
You can download the editor for free here – https://free-video-editors.ru/videomontazh.php. The software is undemanding to hardware and system, so it can be used even on weak and old PCs and laptops with any version of Windows.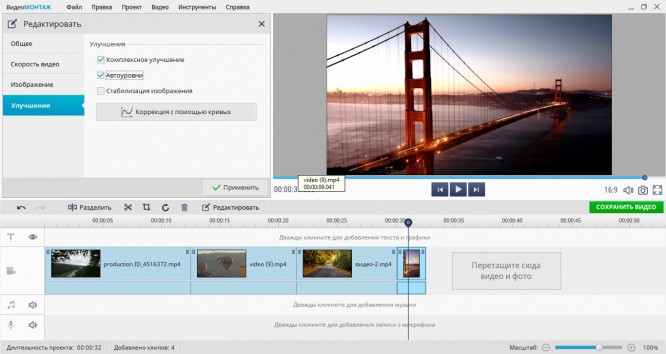 Among the advantages of VIDEO MONTAGE:
Convenient work with chroma key;
Automatic tools for quality improvement;
A rich collection of effects, as well as the ability to create your own presets;
Change the speed of the video (slow down to 4 times and accelerate up to 10 times);
Working with audio tracks, including dubbing video right in the program.
OpenShot
OpenShot has a simple interface that is great for beginner editors. It doesn't have a huge feature set, but it should be fine for basic editing. The editor allows you to work with multiple tracks at once, trim clips and improve them using a collection of filters.
Videos can be added to different tracks, thereby achieving an overlay effect. When exporting a video, it is allowed to manually select profiles, including saving in 4K and converting a project for further processing in Final Cut Pro.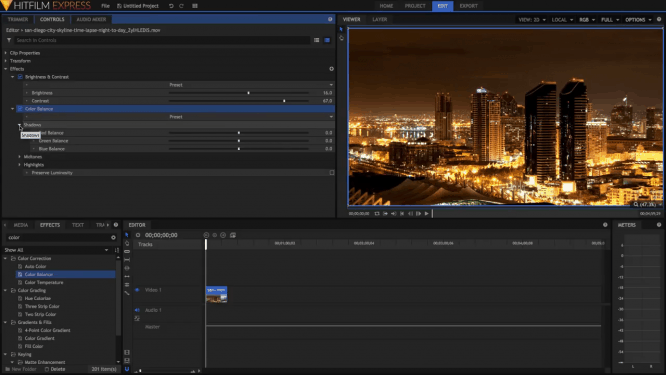 Main functions of OpenShot:
Pre-made effects: adjusting brightness, gamma, etc. in 1 click;
Unlimited layers for video and audio tracks;
Animated titles and transitions;
Creation of the effect of freezing time;
Keyframe animation.
Lightworks
Lightworks is considered one of the best programs for beginners looking to create video content for YouTube. The free version provides a color wheel for advanced color grading, a collection of VFX filters, 3D effects, animated titles, work with audio, including voiceover of a video through a microphone. The program automatically saves the projects it creates, so you don't have to worry about changes being lost due to a sudden crash.
The program has an intuitive interface. The only drawback that displaced this editor to the lower positions of our mini-rating is the lack of Russian localization.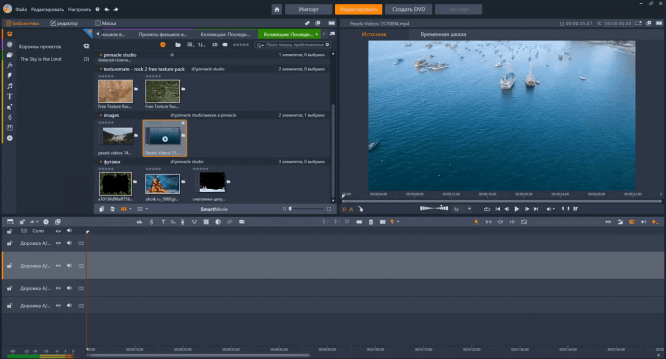 Key features of Lightworks:
Supports a wide range of video formats;
Work in multitracking mode;
A set of filters and effects to quickly improve the quality of video;
Team work on projects in real time;
Fast upload of the result to YouTube, Vimeo, Facebook and Instagram.
HitFilm Express
The program has not been translated into Russian, so it will take a little more time to master. But the result is worth it! HitFilm offers users more than 400 effects and filters, and allows you to overlay videos on top of each other to create a picture-in-picture effect. The processed video can be compared with the original to track changes in real time. It supports creating animations from scratch, working with keyframes and free scaling and transformation of the image.
The video editor can be used for free, but in this case some plugins will have to be purchased (chromakey, color correction, exposure, work with 360 video). For work, it is required to register an account on the official website.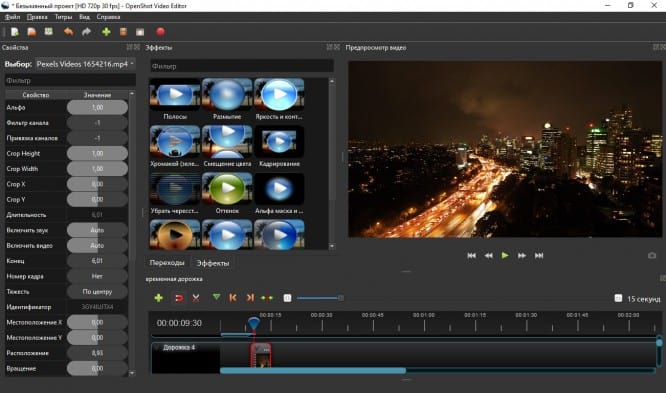 Among the features of HitFilm Express:
Unlimited number of added tracks;
Built-in audio mixer and ready-made audio effects;
Large collection of effects and automatic functions;
Working with 3D models, creating time-lapse animation;
Preset title templates.
Summarizing
When choosing software, first of all take into account the characteristics of your computer and the system requirements of the program. Even simple video editors sometimes put a heavy load on the processor, so pay attention to this, especially if you are working on a laptop. If you are creating entertainment or educational video content, consider additional features such as audio and webcam capture when making your selection.