Shan Jiang "Cycling around the World"
Shan Jiang "Cycling around the World"
Around the World on a Bike is one of many popular anti-stress coloring pages today. Its creator is Shan Jiang, an illustrator. His work was heavily influenced by his hometown of Shanghai, full of contrasts and contradictions.
Today Shan Jiang is a successful designer, and his clients include Google, Nike and Converse.
Who is this book for?
For lovers of cats, bicycles and, of course, travel. Fans of adventure novels will also appreciate Shan Jiang's work. The coloring book will appeal both to those who have opened such a book for the first time, and to those who have already painted hundreds of pictures. Unusual illustrations will appeal to everyone: lovers of animals and cars, space and the ocean, water and fire, village and city landscapes, fans of plant and geometric patterns.
The book will be a wonderful gift to a friend or to yourself. Indeed, the process itself delays and helps to relax. In addition, you can practice working with color, try different pencils, markers and even paints (paper is not thick enough for watercolors, but just right for acrylic).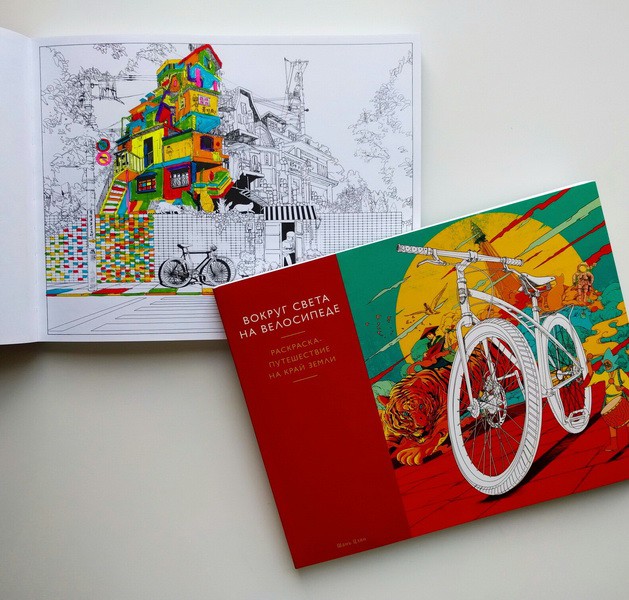 How is this coloring different from many others?
This coloring is unusual because it has the real main characters: the Cat and the Bicycle. And since there are heroes here, then get ready to plunge into an exciting novel. In pictures. Which you can paint yourself, and, if you wish, add. Some illustrations simply invite you to paint something of your own.
The Cat and the Bicycle are not always the center of the plot, sometimes they hide or even amusingly modified. Can you find them on every page? Interestingly, the Bicycle is a completely independent character that does not need a cyclist. The artist's cat turned out to be real, with truly feline habits: it hides in flowers, then plays with stars, then imitates statues, and sometimes just lies, imposingly lounging.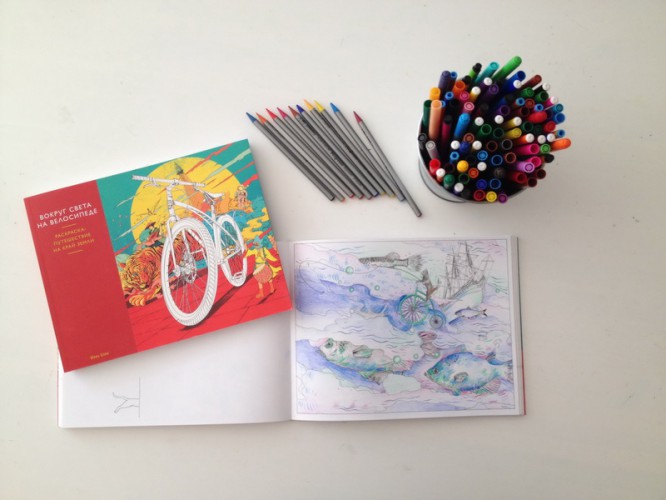 How was the book made?
The coloring book is dressed in a bright, dense, but not hard cover. The format is landscape, which reminds of children's drawing lessons, and besides, it seems to me much more convenient than the usual book format. The paper is white and heavy.
Illustrations are located only on one side of the sheet, which will allow you to use any material. There are about 65 coloring pages in the book, enough for a long time!
A pleasant surprise will be the filmographer (cartoon on the pages) with the Cat in the title role.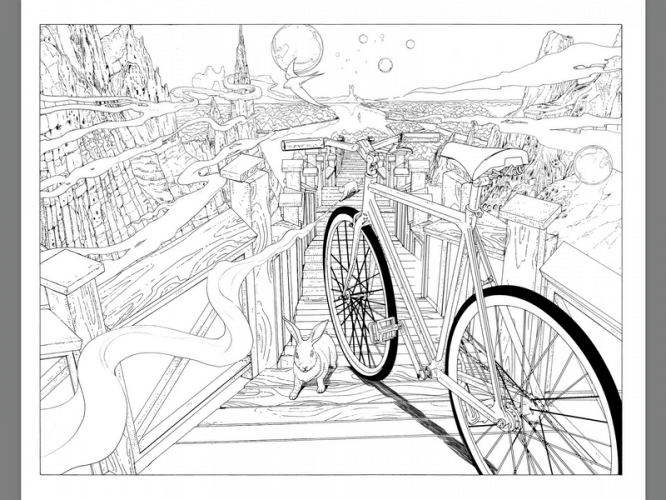 Outcome
The coloring is great for art therapy, while at the same time it has an interesting plot. The illustrations are not oversaturated, but they have something to catch the imagination. It is definitely recommended for all lovers of coloring books, cats, bicycles and travel.
Download the book "Around the World on a Bicycle"
You can see several spreads of the Around the World on a Bicycle coloring page here.
Buy the book "Around the World on a Bicycle"
The easiest way to buy Shan Jian's book "Around the World by Bicycle" is in the online store Ozon.ru at a price of 790 rubles.
…