Mike Monteiro "Design is work"
Mike Monteiro "Design is work"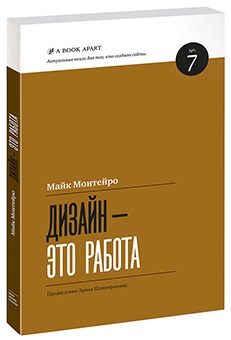 Mike Monteiro, author of Design Is Work, is a designer who has come from the very foundations of the profession. Once upon a time, in the distant 90s, I began to draw primitive banners and booklets in an unknown printing house with my friend in 15 minutes. Already at that time he realized that this kind of work is the most complete rubbish. But you always need to learn first, so Mike continued to work in that typography, and at the same time began to study the basics of composition, design, layout, etc. … And then a few years later he opens his own studio called Mull Design (by the way, if anyone is interested, then she still exists), which it develops as the main direction of its business. It is on the basis of all this experience, from working in a typography, and ending with the creation of his own studio, Mike writes the book "Design is work". The book includes almost all possible aspects of the work of both a freelance designer (whom the author also managed to work for some time) and the head of a design studio.
Who is this book for
If you are a designer (no matter what area), then this book is definitely for you! And if you are a beginner designer, then before you finally decide on what you most want to do (layout, banners, web, printing or something else), you should definitely read this book. Because even if you go straight to some design studio, you must be ready for everything that awaits you there. Well, if you are thinking about becoming a freelance designer, then without this book you shouldn't start working at all. I even envy a little all the new designers who now have the opportunity to read this book and immediately grasp most of the intricacies of freelance work. Because 7-8 years ago, everything was learned through countless trials and errors.
What is this book about
As I said earlier, Design Is Work is based on just over 10 years of experience working in his own studio called Mull Design. To manage at least 2-3 people, you need some kind of leadership skill and courage to make important decisions that can affect further cooperation with customers. In general, the book covers all aspects of the work of a designer and provides a lot of useful advice for each. So that you roughly understand that the book really deals with everything that may be required at the first stages of work as a freelancer or founder of a design studio, I will give a short list:
search for clients;
assessment of the cost of work;
contract job;
correct drafting of contracts when working with clients;
presentation of the first ideas and finished design;
how to get your money;
hiring employees for the office.
But here's what is strange: either the author of the book specially kept all the secrets he had developed so that he could write about them in a few years, or he really collected all the material all his life. I don't know about others, but after 1.5 years of freelancing, I have formed a list, almost 2 times longer, with the basic rules for communicating with clients. Perhaps it is in Russia that freelancing requires a special mindset and attitude towards clients, or I was so "lucky" to experience all the delights of freelancing in the first year of work.
Outcome
After reading Mike Monteiro's book "Design is Work", you will receive answers to almost all your questions related to the work of a designer (both as a freelancer and in a studio). Of course, no one guarantees that no one will cheat you, that you will always be right, or that you will always be paid. But at least you will already know what to look out for and how to properly sign contracts when your client is writing them, not you.
A paper or e-book can be bought on Ozon or in any other online or offline stores (the cost is about 550 rubles for a paper book or 300 for an electronic one).
…