Michael Jada "Burn Your Portfolio"
Michael Jada "Burn Your Portfolio"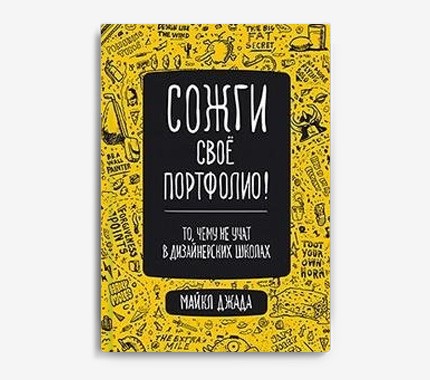 To be honest, until the moment when the book "Burn Your Portfolio" came into my hands, I had not heard anything about such a designer as Michael Jada.
After spending a couple of minutes searching the Internet, I found his personal site, a profile on Behance and the site of his design studio.
The portfolio and clients are impressive: famous Hollywood studios, leading US TV channels and other global brands. I don't know why, with such experience, Michael published his book only in 2014. I could have been a couple of years earlier, then she would have come in handy for me too 🙂
Who is this book for
Michael himself claims that his book "Burn Your Portfolio" will primarily be useful to all graduates of graphic schools, because working on a real project in 99% of cases is a completely different kind of activity than working on your project for protection before the commission.
I am sure that this is also more than applicable to our realities, although not always. I know many colleagues who, being at 2-3 courses of design institutes, have already started to earn money as a freelance, gaining a real portfolio and goodies in communicating with clients 🙂
But if by the time you graduate from the institute or by the time you decided to take up design, you have practically no work experience in this area, then the book "Burn Your Portfolio" will give you a full understanding and answer the questions:
– how to communicate with clients correctly;
– how to discuss the revision process;
– how to build a design creation process;
– how to present the design.
The book is a large collection of useful tips
In addition to the topics listed above, the author considers many other topics related to design development, managing your own studio, hiring personnel.
In total, Michael Jada has written over 100 (!) Chapters on the topic "How to become a designer, open your own studio and do what you love." I cannot say that all the tips will be useful to you, you will put them into practice and they will really work. Each case is unique and requires a unique approach. Michael describes his own experience and his own results that he was able to achieve.
I advise you to read
If you are seriously thinking about a career as a graphic designer or, more difficult, about opening your own studio, then after "Burn Your Portfolio" I advise you to go on to study the book "Design is Work" by Mike Monteiro. In it, the author talks more about the functioning of his own design production enterprise than about a freelance designer, but it is also very interesting.
Book decoration
And I must say a little about the design. 5+ – this is the grade that I am ready to give her. "Burn Your Portfolio" is just a little short of Roehm's books, however, a large number of illustrations, skillful interspersing of quotes and an excellent breakdown into chapters do their job – the information is easily perceived.
To buy a book
You can buy the book on Ozone or from the publisher – Peter (if you enter the promo code infographics when ordering, you will receive a 25% discount and the price of the book will be 487 rubles).
…