22 cool widgets for Adobe Muse
22 cool widgets for Adobe Muse
22 widgets to help you create awesome landing pages and one-page sites from the v-muse.ru project.
10 free widgets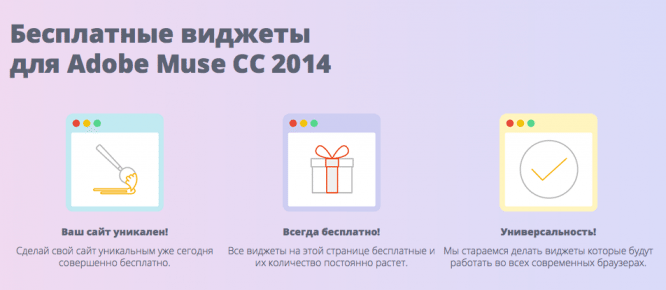 Typing Animated Text
Animation that simulates typing. The widget is perfect for writing titles and more.
Download Typing Animated Text Widget | Demo
Line Through Text
The widget adds style to the text, after which it will be strikethrough. Useful for writing comparisons of old and new prices.
Download Line Through Text Widget | Demo
Copy Protection
The widget allows you to disable the ability to copy your content on the site.
Download Copy Protection Widget | Demo
Object Selection
The widget will change the standard selection color or disable selection of objects altogether.
Download Object Selection Widget | Demo
Smooth hover
Smooth display of the state of objects when you hover the mouse cursor over it.
Download Smooth Hover Widget | Demo
Animating Numbers
Increase the value of the digits. You can set the animation speed, start and end values.
Download Animating Numbers Widget | Demo
Border Style
A widget for changing the stroke styles of any objects in Adobe Muse. Thickness and color are customizable in the program.
Download Border Style Widget | Demo
Preloader
A very useful widget for "heavy" sites. Adds animation for loading the site.
Download Preloader Widget | Demo
Yandex Aim
This widget will be useful for those who use Yandex.Metrica. With it, you can easily set goals on your site.
Download Yandex Aim widget
Yandex Metrika
The widget inserts the Yandex.Metrica counter code before the closing tag
…