Liza Krasnova "Markers!"
Liza Krasnova "Markers!"
Bright, juicy, fashionable … markers! This material blew up the Internet a couple of years ago, excited the sketchers and still does not let go. What is the secret of popularity?
"Markers!" – a novelty from the publishing house "Bombora" (formerly "Eksmo"), released in the #instartist series and written by the famous instagram blogger Liza Krasnova.
Who is this book for?
For those who have not yet figured out why markers have gained such crazy popularity, but want to understand. The book is perfect for beginners; for those who have already taken the first steps in marker sketching, the book is unlikely to tell something new.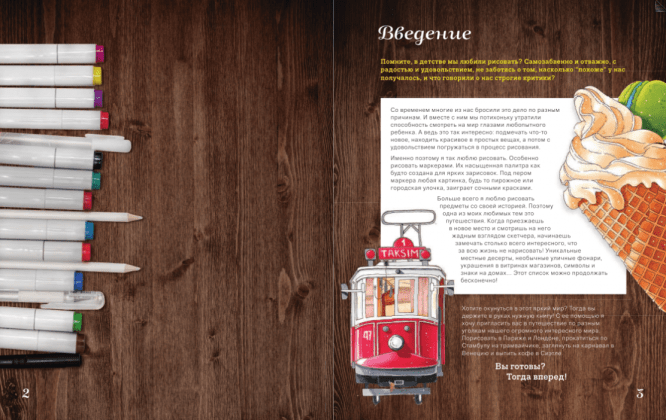 What is this book about?
A book about markers. Yesterday you saw juicy pictures on Instagram. And today I want to understand why alcohol markers are better than children's markers.
Lisa will help to understand the topic even for those who didn't know about any markers yesterday.
Although this is not a drawing book, not a textbook, the author still talks about the technique of drawing with markers. The reader will quickly figure out how to mix colors, make smooth transitions and create volume. And also you will learn:
what effects can be achieved with a thick outline;
why do you need a "blender";
how to use lettering and stamps;
how to create "magic white dots" and place highlights correctly.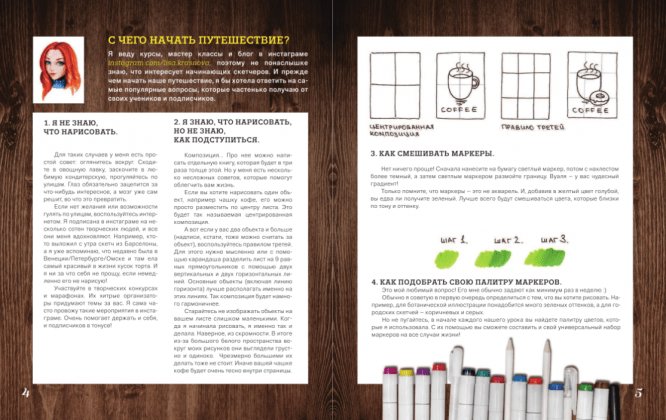 Palette
Perhaps the most painful question of a novice sketcher: "What colors are included in the basic palette?" And the answer is very lengthy, one paragraph cannot be enough here. Much depends on which nature the artist prefers: botany, people, architecture, food … Lisa will tell you in detail how to compose her base without spending extra money on this already expensive pleasure.
It's great that attention is paid to the issue of proper storage and refilling.
Unfortunately, the author does not name specific brands and shades of markers, citing only the palette itself. Lisa refers us to the Internet, where you can find anything, but, frankly, I would like to receive specific recommendations from a professional, and not spend an evening doing market research.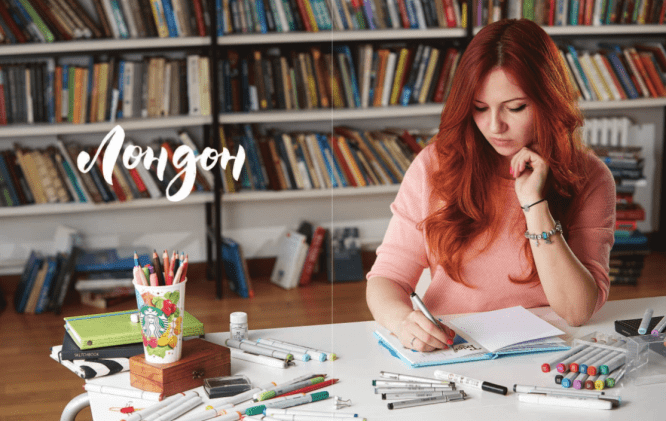 From word to deed
The most interesting thing in the book is 5 master classes. They are united by one common theme – the countries of the world, but at the same time, the reader is invited to try his hand at different genres: botanical illustration, food sketching, landscape, travel sketching and the depiction of objects.
Each sketch has its own palette, but each of them looks very juicy and makes you want to get down to business right away.
In each master class, not only step-by-step and very detailed instructions are given, but also different techniques for creating cool effects are being worked out.
How was the book made?
A medium-sized hardcover book with nice thick white sheets with inspiring artwork. The markers scattered across the pages seem completely superfluous. Maybe it would have looked great if they did not have such an alien re-photoshopped look.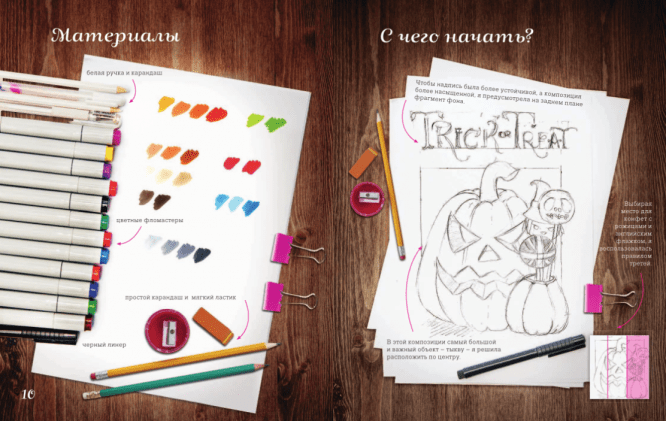 Output
The book will introduce you to markers if you want to start drawing with them and do not know how. It will also be a great gift for a teenager who is looking for a creative hobby. An easy manner of storytelling will attract young readers and make acquaintance with a new one easy and enjoyable.
Download free of charge the book by Lisa Krasnova "Markers!"
Fragment of the book "Markers!" available for free trial at the link.
Buy the book "Markers! Drawing bright sketches with Lisa Krasnova "
Lisa Krasnova's book "Markers!" available for purchase in electronic format in the Ozon.ru store at a price of 150 rubles.
Author: Evgeniya Suvorova
…