Julia Cameron "The Best Time to Start"
Julia Cameron "The Best Time to Start"
The wrong age is the stupidest excuse not to start. Right now!
Julia Cameron dedicated her book to seniors who lack the determination to finally start doing what they love.
---
"The Best Time to Start" is another book by the famous American writer Julia Cameron, author of the books "Finding the Source", "Long Walks" and "The Artist's Way".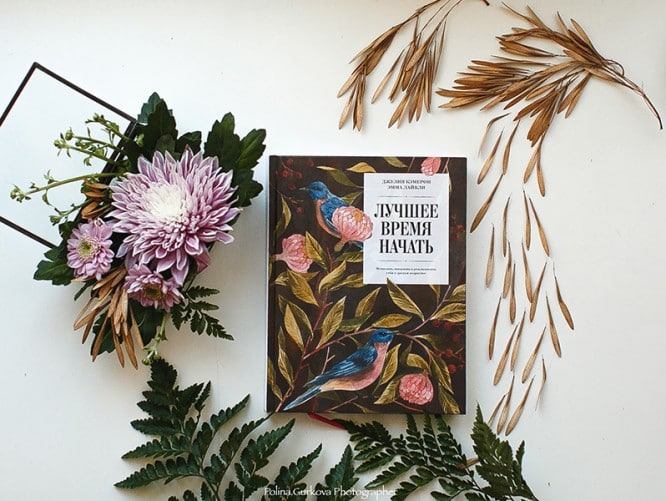 Who is this book for?
This book is aimed not only at all doubting and indecisive people, it is, first of all, for those who are over … (50, 60, 70 – underline the necessary), for people who leave behind one life and enter another, which is just ahead create.
What is this book about?
Like Julia Cameron's previous books, this one builds on the description of a 12-week course. Each week is dedicated to the revival of a feeling. For example, in the first week, course participants work to revive a sense of childhood. The creative part of any person is the child. To advance in creative self-realization, it is very important to remember yourself as small and forget all your inner "adult" fears.
Basic exercises
In addition to the basic exercises described in Finding the Source (creative dating and morning pages), two more are added: compulsory walks in solitude and writing a life story. A life story is a weekly process of conscious recollection and revision of an entire life in increments of several years. Fortunately, even those who "do not remember anything" will cope with this task, since at the end of each chapter there are questions that will help the reader to plunge into the past painlessly.
In a world saturated with information, it is very useful to listen to your inner voice, indulge in thoughts that no one will interrupt. Walking alone, despite its apparent uselessness, is an excellent tool for tidying up both body and spirit. They saturate the body with oxygen, help to stay awake, and besides, they are free and do not require special skills.
By the way, in addition to basic exercises, the book also contains many additional, but no less useful ones.
Inspirational stories
70-year-old actress Gillian began to get involved in writing poetry. And at some point she realized that she lacked knowledge. However, the thought of entering a literary institute frightened her. Still, she mustered all her courage and applied for the online office. Much to Gillian's surprise, she was accepted. Her personal Rubicon was crossed, and she began to prepare for classes. To successfully study, a 70-year-old woman needed to master a computer and learn to freely use the Internet.
With the help of her teenage granddaughter, the lady coped with this task. While studying at the institute, she enjoyed literary activities and praise from teachers. By the time she was 75, she had earned her Master's Degree in Poetry and was on friendly terms with computers and the Internet. It's never too late to start!
How was the book made?
On the first page of the book there is a special column for entering your name and phone number, in case you accidentally lose your "assistant" during the 3-month course. The A5 format makes the book easy to carry with you, and the hard cover will keep it looking decent after 12 weeks. The text is not located in the full width of the sheet – rather spacious margins are convenient for pencil notes, and the text located in a narrower line is better perceived.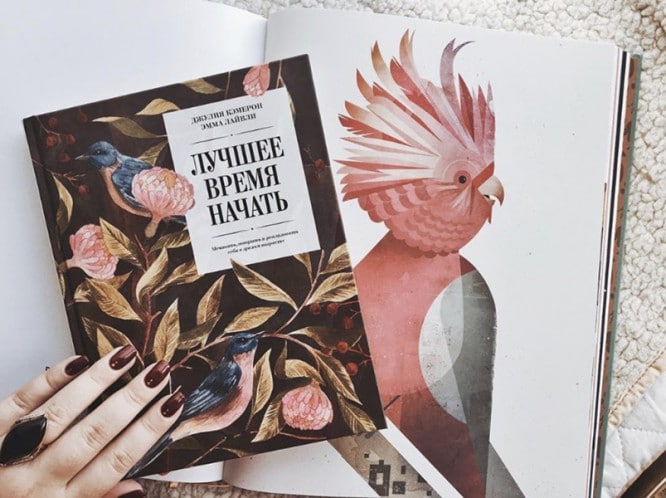 Outcome
If you have read "Search for the source", then this book can be considered its analogue. People who have not reached the figure of "old age" are also unlikely to be interested in reading about life in retirement. However, the book can be a wonderful and inspiring gift for your parents or grandparents.
Buy the book "The best time to start"
Julia Cameron's book "The Best Time to Start" is available for purchase in the online store Ozon.ru or Labyrinth at a price of 830 rubles.
Author: Evgeniya Suvorova
…