John Edson "Apple's Design Lessons"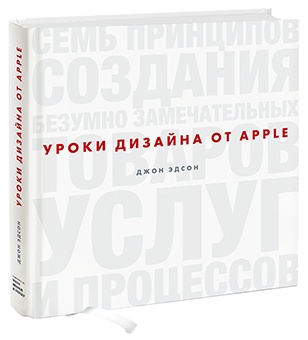 The lesson to be learned from Apple's approach to product design is that design matters to success. Apple is one of the few companies that has enthusiastically embraced and invested in design, making it the most important differentiator of their products and services.
Mann, Ivanov and Ferber published a book by John Edson, in which the author teaches how to apply design in his work, as well as evaluate the power of design and use it the way Steve Jobs did – to create "insanely great" products. The publication allows you to form a special approach to design: the desire for the charisma of goods and services and perfection, the determination to invent and understand the core values ​​of the company as follows: "Privacy, teamwork, quality."
What is this book about
Apple's Design Lessons is based on examples that show the difference between good and bad design. For example, the Reach toothbrush has become famous for its ergonomics in the market, but upon close analysis it turned out that it was frankly the wrong design. Soon Oral-B, after examining some of the consumer behavior, developed a better design (the new toothbrush had a thicker handle), which ultimately influenced sales.
Who is this book for
This book is for everyone who studies the design process and practice, who explores the strategic role of design, forms their own vision of the world and how it works.
A new book about the key role of design in creating a great product, about how high-quality design has changed the way we look at the product, in general, at the world and interact with it.
"Regardless of whether you are a designer or someone with no even a passing interest in design, you've already noticed that everything Apple does is simple and impeccable. This is what sets Apple apart from most other tech companies. There is order and logic in everything Apple creates, as well as a relentless drive to innovate. The way iPads and iPhones function and interact with the user, how easy they are, are as attractive as their sophisticated looks, attention to detail, and tactile surface. All of this is due to design, "writes John Edson in the book.
The book "Design Lessons from Apple" is sold in the online store Ozon.ru for 785 rubles.
…