Joe Fernijo "The line is the point that went for a walk"
Joe Fernijo "The line is the point that went for a walk"
Joe Fernijo's Creative Notebook is able to awaken creative powers and fill the soul with inspiration.
Who is this book for?
Lovers of drawing and bright colors will like this unusual creative notebook. Like many books of this format, it is more suitable for beginners. However, even an experienced artist can find lost inspiration in it. Really interesting content will make the book attractive not only for adults, but also for children.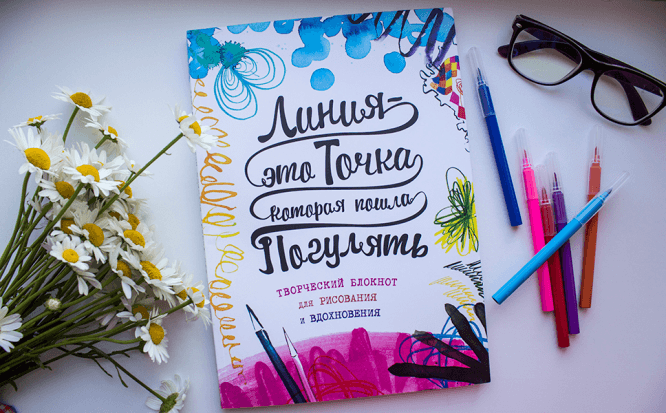 What is inside?
First of all, this notebook differs from its counterparts with a really bright filling. The colorful pages are very inspiring!
The childish title of the book promises a fun adventure. And there is! Here you will not find any motivating inscriptions, questions about the meaning of life and leaflets for drawing up a plan for the next 5 years. This book is only for drawing and for unleashing your creativity. She is optimistic, beautiful and does not remind of any pressing problems or agony of choice. The notebook exudes the joy of childlike spontaneity. Give it a try, transform your scribbles into a curly poodle or a shaggy sheep, or maybe a warm sweater?
I was very pleased with the presence of a small theoretical insert on colors, materials, geometric shapes and the basics of drawing a human face. A person who has taken up drawing recently or just right now will feel more confident.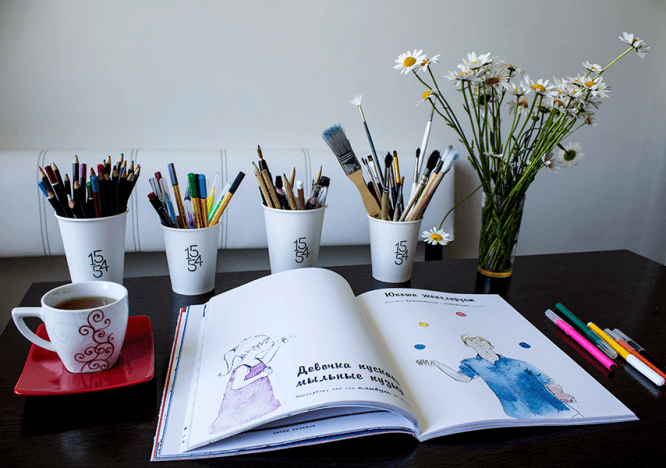 On the pages of the book, you can try different materials, techniques, practice in the image of different textures and ornaments. The author proposes not only to carry out tasks according to the model, but also to implement their own projects from scratch. As you move towards the end of the book, the assignments become more challenging and interesting.
In this creative notebook, the sensory perception of drawing comes first. Do you know how to draw a shy or arrogant figure? Try it! An excellent simulator for the imagination, on which it will not work to be lazy.
Joe Fernijo focuses not on drawing technique, but on getting pleasure from the process. Even if your drawing ability remains at the kindergarten level, this is a great start. Working with the book, you will understand that in drawing, the process is much more important than the result.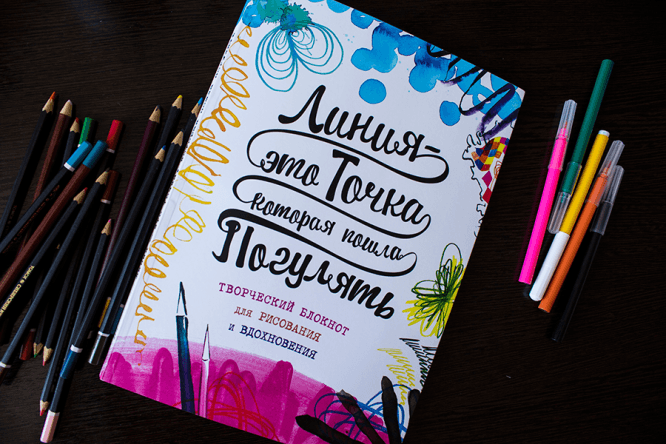 How was the book made?
Bright, attractive, well-printed notebook is very pleasant to hold in hand. The A4 format makes it less mobile and suitable mainly for home use, but there is room for creativity.
The cover is soft, with folds that can be used as a bookmark. Excellent quality paper will allow you not to be shy in the choice of materials. Colorful drawings look very juicy and inspire your own creative exploits in color.
Notepad pages are enough to stretch the pleasure over several days, but at the same time not too many. The tasks are fascinating, not far-fetched and not repeated.
Outcome
Joe Fernijo's Creative Notebook is a great gift for a teenager or an adult with a passion for creativity. Fun assignments, complemented by theoretical inserts, will help unleash your creativity, and the quality of execution will make your drawing even more enjoyable.
Buy the book "The line is the point that went for a walk"
You can buy Joe Ferniho's book "A line is a point that went for a walk" for 520 rubles in the Eksmo online store or in the Ozon online store for 692 rubles.
Author: Evgeniya Suvorova
…