Frans Stone "Sketches! How to sketch everyday life "
Frans Stone "Sketches! How to sketch everyday life "
That's all, you have not a single excuse left, because the author of the new book "Sketches!" – self-taught artist. Frans Belleville-Van Stone not only draws great, but also achieved popularity. She has worked on interesting projects with professional artists, despite the fact that France is an English teacher by training.
It doesn't matter what your diploma is, take a pencil, sketchbook – and go!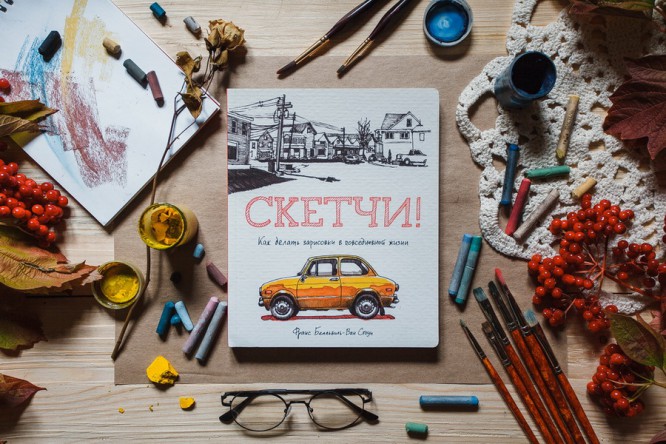 Who is this book for?
For those who believe that nothing will come of it without art education. But no! Work daily and believe in yourself. Everything will work out!
What is this book about?
An entire chapter is devoted to the lack of art education, and it is very convincing. All you need is the desire to paint and develop. And there is no magic here. No, you will not become a delightful artist just by reading this book (and all the others), but you will understand in which direction to go. And you will also understand that the most important thing is not to stop moving forward.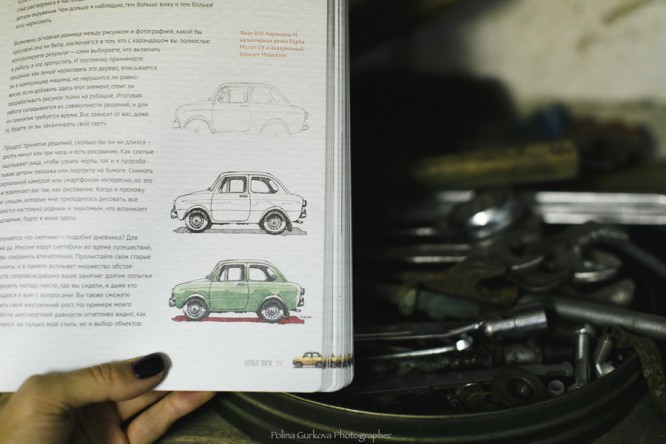 Any book written by an artist will have a chapter on materials. But everyone is unique. An individual author's style is dictated by an individual set of tools. Frans talks in great detail about his main material – liner pens. And no less fascinating about some others. The main feature of the described materials is their compactness and ease of use, which is very important when your main work surface is your own knees. Everything that the artist uses is placed in a small pencil case, because the desire to make a sketch can catch you at any moment.
There is a whole chapter about any minute. When to draw a person who honestly works from 9 to 18 and still has a lot of household chores? The answer is simple: along the way. Draw in transport, in line at the clinic, while potatoes boil or the washing machine squeezes out the laundry. In these few minutes you will not create a masterpiece, but is it necessary? The author urges you to change your attitude to drawing: lower expectations, do not strive for an excellent result, and then you will find freedom and be able to focus on the process. What can be called a finished drawing? Take a closer look at your unfinished sketch, because it also has a special charm.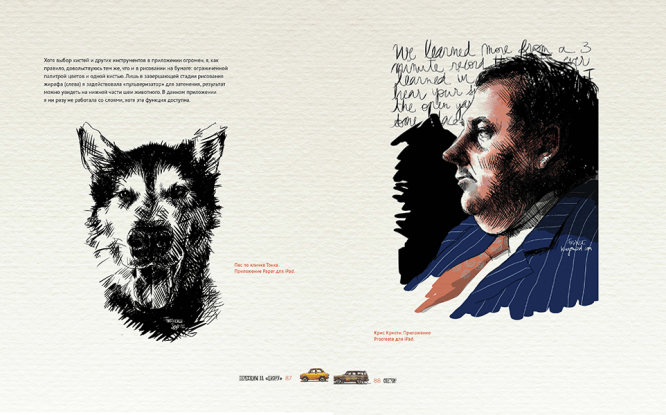 Digital sketching
Turn your gadget into an art workshop! No need to carry a pencil case and a sketchbook or think about how it is more convenient to sit in the open air. A tablet, stylus and easy-to-use drawing program are all you need for digital sketching.
You can spend a lot of time trying to figure out which program to download and which stylus to choose. And France has already reviewed the best, in her opinion, styluses and programs. And she also very clearly described all the pros and cons of drawing on a tablet. And, of course, she writes about painting techniques. The variety of tools in drawing programs is simply amazing and opens up new horizons.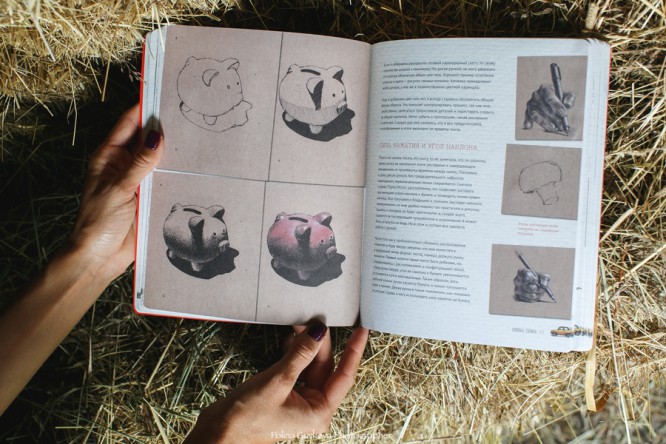 Source of ideas
An entire chapter is devoted to the painful question of all artists in the world: what to draw? France has approached the solution outside the box and offers at least one sketching topic for each letter of the alphabet. For the first time, there will definitely be enough ideas. And then the process will take over you so much that you will have to write down your own, so as not to forget.
How was the book made?
Form or content? What is more important to you? I can say with confidence that their unity is important to me. And this book is completely in line with my preferences. A lot of author's drawings (black and white and color), a stunning imitation of rough watercolor paper on each page, rounded corners, high-quality printing and a very nice cover design. The combination of matte and glossy elements looks beautiful and the touch is simply amazing! At the bottom of each page is the chapter number and title, and a lovely little cover car drawn. All design has the same inspiring power. Believe me, it is simply impossible to resist buying a paper version.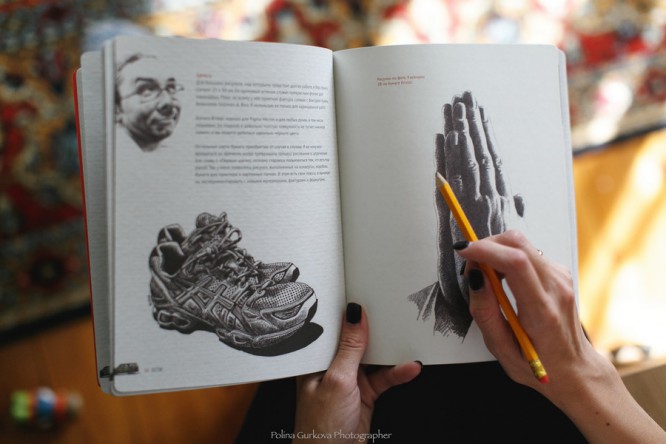 Outcome
A very nice and useful guide to daily sketching from a self-taught artist. Frans Belleville – Van Stone, a young mother, knows how difficult it is to find time for sketching in the hustle and bustle of everyday life and how wonderful it is when it is. And she knows for sure that daily work will bear fruit, but there is simply no shortcut to success.
Buy the book by Frans Stone "Sketches! How to sketch everyday life "
The book "Sketches! How to sketch everyday life "is available for ordering in the Ozon online store at a price of 700 rubles.
Author: Evgeniya Suvorova
…