17 tools for working with color
17 tools for working with color
Color is one of the main factors in the success of any design project.
To make it easier for you to decide on the right color combinations for your diminishing projects, we have compiled a selection of seventeen useful tools designed to make it easier to work with color.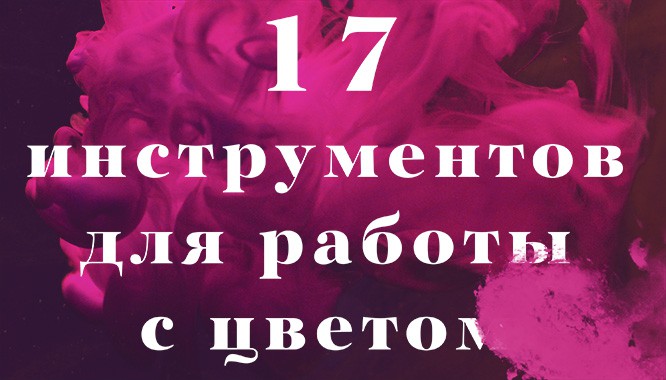 1. ColorHexa
An interesting service with a fairly large set of features: providing color information, generating gradients, mixing colors, separating colors. There are also tables of "safe" and named colors.
2. Paletton
One of the most powerful tools for choosing color palettes. I am especially pleased with the opportunity to see (albeit approximately) how this palette will work on the site, for example. And if, well, nothing works at all, you can poke at Randomize 🙂
3. RgbTo
Convenient color converter for various color models.
4. Color
Color matching tool. It is extremely simple to use – you move the cursor, select the appropriate color, click, select a new one.
5. Color-Hex
The service provides color information in various color models.
6. Stylify Me
A handy tool for extracting color from a specific site. Besides color, information about images and typography is also pulled out.
7. Web Color Data
A service that retrieves and stores information about the colors used on popular (and not so popular) sites.
8. Color Extraction
A tool for creating a color palette based on the image that you "feed" him.
9. Multicolr Search Lab
Search for Creative Commons licensed images by color.
10. Adobe Color CC
Powerful tool for matching color palettes using the color wheel.
11. Colorful Gradients
Automatically generated color gradients. Updated every 48 hours.
12. Brand Colors
A collection of corporate colors of the largest brands.
13. Material Palette
A service for generating a project's color palette based on colors from Google Material Design.
14. Сohesive Сolors
A tool for selecting a color palette and its harmonization by overlaying an additional color.
15. Pltts
Ready-made color palettes.
16. Color Hunt
More color palettes.
17. ColourLovers
Lots of color palettes sorted into categories.
Source: webtools
…