Zifflin and Lei Melendres "The Doodle Bunch"
Zifflin and Lei Melendres "The Doodle Bunch"
A Bunch of Doodles is another Zifflin book with illustrations by Lei Melendres. Zifflin is looking for talented artists around the world to create truly exciting, mind-blowing coloring pages.
Our compatriot Irina Vinnik acted as an illustrator in one of Zifflin's books "Boot Mania".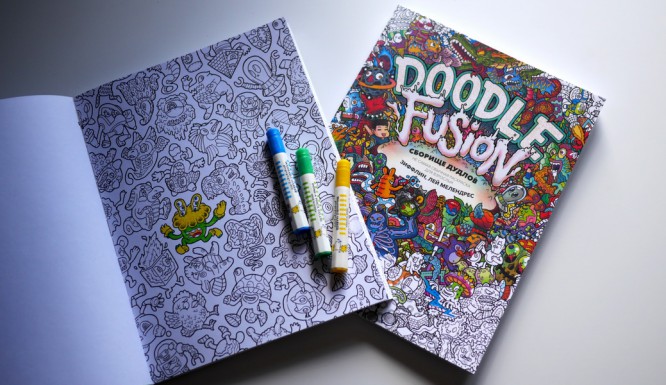 Who is this book for?
For those who are tired of owls, cats, chanterelles and flowers. Everything is different here. Little cute monsters, unknown creatures that live their own lives and tend to clump together.
A bunch of doodles is brutal enough to please adults and serious people who don't share a passion for girly pictures.
How is this coloring different from many others?
Mainly by their characters – numerous doodles. Doodles are simple and cute cartoon creatures. They are small monsters and just familiar things that come to life: cupcakes, cups, jars and a great many others.
The author's imagination is truly limitless! All these doodles, big and small, cute and not so, have their own unique character: they are aggressive and friendly, funny and sad, lazy and active, determined and doubting. Each of them has its own role, which they play beautifully, and maybe a goal to which they strive. They are absolutely fantastic, but at the same time extremely realistic.
Doodles are very different creatures, but they are united by one thing – the desire to be together and as close to each other as possible. Your task is to sort out this huge pile and paint the creatures in different colors.
The gathering is not limited to monsters. There are also pages created for lovers of floral motifs and geometric patterns. In addition, illustrations are divided into two types: complex, "dense" drawings, requiring jewelry coloring with thin pens or sharp pencils, and simpler, "spacious", which can be colored with ordinary felt-tip pens, and even paints. But "dense" still prevail.
The world of doodles is incredibly exciting, easy to dive into and difficult to get out of. Are you not afraid? Then go for it, you will definitely enjoy it!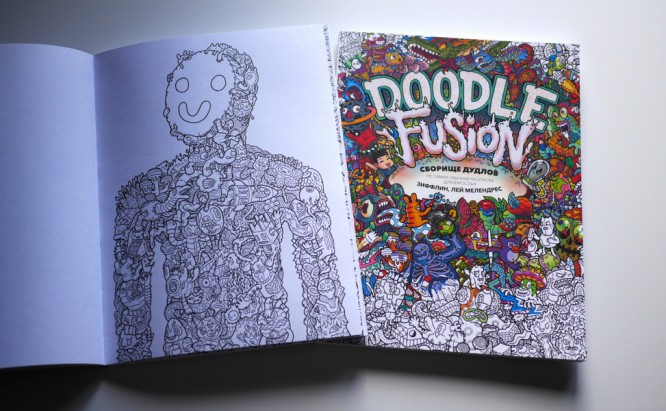 How was the book made?
Large format coloring, printed on thick offset paper. Arrangement of colorings only on one side of the sheet will allow you not to hesitate in choosing materials for coloring. Drawings are perfectly printed.
The cover is soft but firm. Also, she is colorful, attractive and definitely inspiring. It is interesting to consider "author's coloring" with color transitions, shadows and highlights.
Outcome
Another coloring book for adults, but with a strikingly different theme of images. There are as many as 50 drawings with little monsters that will appeal to both teenagers and their parents. The quality of the publication is very decent, it is pleasant to hold it in your hands and you want to start painting as soon as possible!
Buy the book "Bunch of doodles"
The easiest way to buy the book by Zifflin and Leigh Melendres "A Concourse of Doodles" is in the online store Ozon.ru at a price of 550 rubles.
…