Photo stocks: Review, comparison, use
Photo stocks: Review, comparison, use
The crusade against Internet piracy, launched in Russia in 2013, not only updated, but also inspired the concept of "copyright" with a kind of almost mystical charm. Having succumbed to temptation, we decided to remind, in particular, about what the legal circulation of copyright photographs is, what photo stocks are and how to use them correctly.
How to purchase an image
Everything comes at a price, and quality visual content is no exception. The rest of the work with photobanks is prosaic: registration, replenishment of the balance, search for the frame of interest according to the specified parameters and, after payment, download it.
Let's look at some examples.
Shutterstock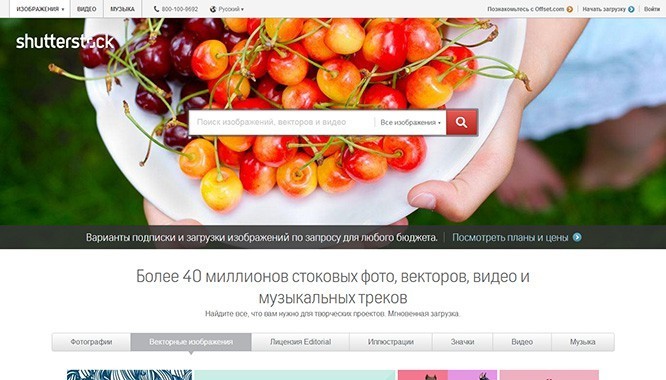 The largest photo stock (in the archive more than 50 million images), specializing in working with regular subscribers who buy pictures in bulk. Registration is free, a monthly subscription traditionally cost $ 249, at the time of this writing, there is a discount and the price has been reduced to $ 149: still not cheap, but for this money you can download 25 frames daily, regardless of their size and how they are graphically presented. A similar subscription under an extended license (for a circulation of 250,000 copies) will cost $ 1,019.
The site supports 20 languages, including Russian, Finnish and Thai. But the payment options are limited to manipulating the bank account; it will not be possible to use various kinds of electronic wallets.
Fotolia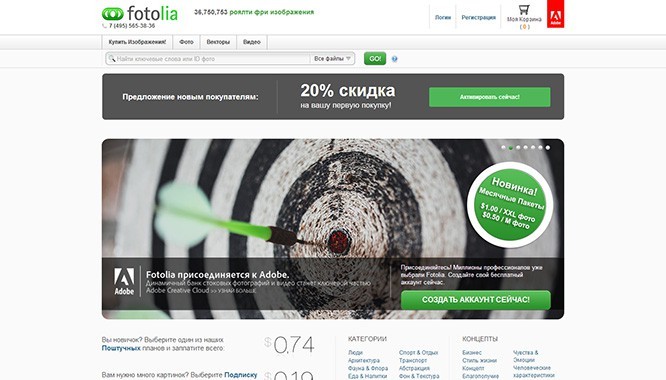 The youngest photo bank of the presented, includes more than 36 million images, has a flexible system of subscriptions (as well as their cancellation) and is suitable for those who are ready to pay, but do not want to overpay. Also, free registration, for real money in this case, not the images themselves are purchased, but points: the minimum payment is $ 14 (10 points). Monthly subscriptions range from $ 20 to $ 640 depending on the number and size of frames you are interested in. You can use for payment as a bank account, and systems Webmoney, PayPal.
Depositphotos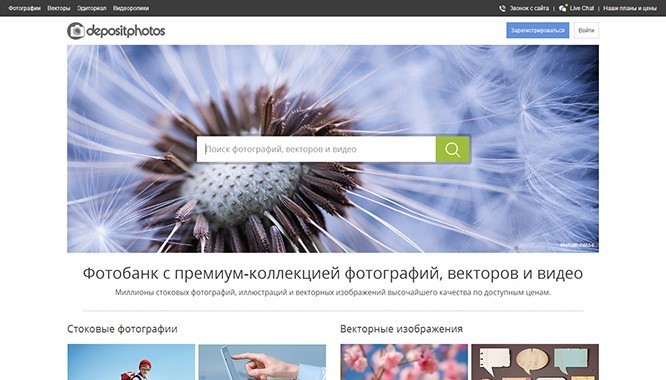 More than 32 million images, technical support in Russian and the ability to pay for images except perhaps with bottle caps – what else does a professional connoisseur of beauty need? The limitations of the standard license are sparing, even if they refer to psychological pricing: up to 499,999 copies of one photo. In addition, the resource is distinguished by a fast replenishment of the base of vector images, the price of which (when using credits) depends on their size, as well as the popularity of the author. The minimum cost of a monthly subscription is 4461 rubles: for this money, you can download 5 images per day of any size.
Dreamstime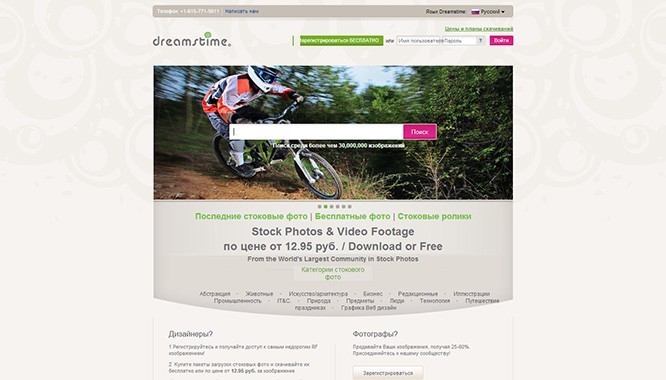 An old-timer among photo stocks, whose database, according to the statistics of the site itself, has more than 30 million images. The cost of a monthly subscription is 13,929 rubles with the ability to download 25 images daily. The owners of the resource, however, also did not disregard those who are content with little: for 5 downloaded images per month, you need to pay only 3.24 rubles.
But the site is quite jealous of the commercial use of its content. Even when purchasing an extended license, be prepared to be faced with the need to reduce the number of copies sold for a photo to 10,000 units.
By the way, there are resources on the Web that make it much easier to work with photo banks, for example, eliminating the need to register: these include Fotoget and Shopdiz services. In the latter service, registration is by invitation, here are a few for those who wish:
c1874035185edda8462facf77858acb20edea3a5
978852aa4d8d0e423f9b2ebb6576c5498c27ee87
fb0c2458ab97268031cf1d6a5932b8de5f954d38
89b02131541522fb3eb009da8ab8c6914f815443
c88f19db56d10f7ae47d08a7cc41056a414e78e8
25e389b857b077651260919dab74e60a6f12664d
13e980bb824b26f3e7f35a20321fd18e0796f776
e9ad99e9b8bbf15b6c3f364dcca3fbc8b800ba82
86b997bf443fb167800a24a8a5f7db18902504a0
1c2e94a8968f68e9869d793a92a133ec4cb02f4d
If the invitation does not work – check back later, we will add as required.
Author: Denis Strigun
…