Keri Smith "Rediscover the World!"
Keri Smith "Rediscover the World!"
Have you ever counted the number of leaves on a tree? Did you walk in pitch darkness around your own room and feel by touch what objects surround you?
Or maybe they tried to walk around their house, writing down all the smells they encountered on the way?
I think that such tasks and ideas rarely come to mind for an ordinary person – and why is it necessary? 🙂 And this is necessary for a better understanding of the world around us.
In his book "Rediscover the World!" Keri Smith has collected 59 tasks similar to those described above, which will help you discover a real researcher, collector and forget forever that the world around you is boring and monotonous.
Who is this book for
I am sure that the most useful book is "Rediscover the World!" will be creative individuals, whose daily duties include coming up with a variety of ideas for solving a variety of problems.
However, there is not a single task in the book that could not be completed by anyone, and even more so by those who want to develop creativity in themselves, a person.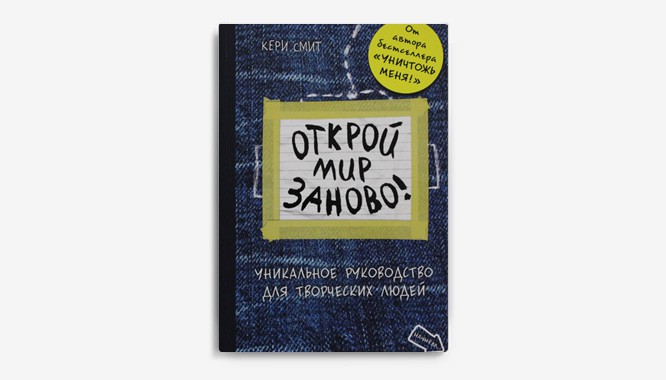 Therefore, I recommend mastering the method of searching for ideas described in "Re-open the world" to everyone who wants to learn how to look at the world around them in a new way.
Quests in the book
Not all the tasks described in the book were invented by Keri herself, rather, she chose the most interesting and sensible ones, which she learned from various creative personalities during her long creative career.
For most of them, you don't need any special skills, tools or training. But absolutely all tasks require attentiveness, patience, perseverance and a desire to learn.
It is likely that reading and completing all the assignments from the book "Rediscover the World!" It will take you more than one or even 2 months, but if, after reading the book, you continue to set yourself interesting goals for studying the world around you, you will definitely understand for yourself that the world around you is an inexhaustible source of inspiration and ideas.
Buy a book
Keri Smith's book "Rediscover the World!" will be available for purchase from July 17 in the Ozone online store at a price of 350 rubles.
…