InVideo is a simple and easy to use video editor
Free online video editor InVideo allows anyone without special skills and knowledge to create stunning effective videos. You can work on editing from any modern browser. You don't need to install any software on your PC.
Now there are a large number of video editors, but the main difference between this program and its counterparts is that InVideo has rich functionality, a convenient and intuitive interface. And even beginners can use it.
Another difference of InVideo is the wide range of video editing methods. You can create a video from scratch, from an article or text, to turn it into the result you want. This can be done using pre-developed templates, the number of which reaches 4000. If desired, the template can be edited at will, overlay music in the program by selecting the desired track from the library or uploading your own. Due to this, it will be possible to get truly exclusive content. Be sure that even using the template, no one will have a video like yours.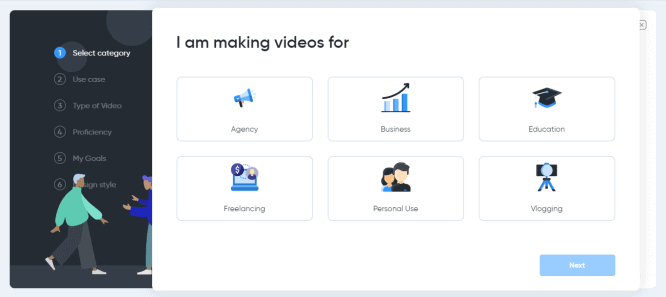 There is another unique feature that allows you to instantly convert text to audio. Now creating professional voiceovers is as easy as shelling pears. It should be noted that this is one of the unique features that is not available in all video editors. Users can now edit videos in any language, choose gender, nationality, and more.
In addition to the aforementioned features, the online video editor InVideo also offers its users the following functions: video cropping, removing unnecessary elements from it, adding graphic elements, changing the background, color correction and setting the screen orientation. Most importantly, InVideo has an automatic video saving function. Also, in a few clicks, you can post the finished video on social networks.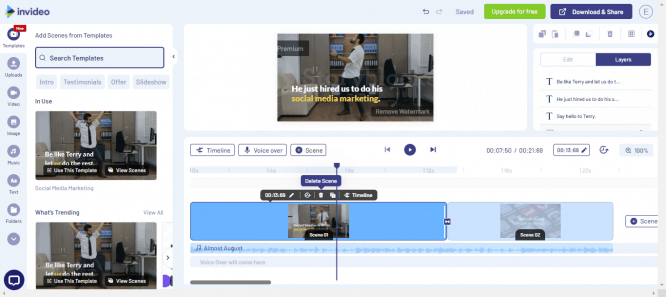 What is InVideo online video editor for?
This program is very popular among bloggers who use it to create videos for Instagram and TikTok. In addition, the video editor InVideo is in great demand among business representatives, as it is a program for creating presentations, videos for online promotion, slideshows and other various content. Of course, this is not the end of InVideo's capabilities. You can literally create anything with just a blank template.
Getting started with InVideo
It's very easy to get started with the editor. It is enough to follow these steps:
Register. To do this, enter your name, phone number, email address, come up with a strong password. You can also log in via Google and Facebook.
Now you can proceed directly to video editing. Click the Create Video button. You can choose the template you like, which you will then edit and customize for yourself. It is also possible to create a video from scratch.
Upload media or use basic from your media library.
Edit the template to your liking. You can add animations, colors, lettering and many other elements.
Save your video. Now it can be published on any social media.
Summing up, we can say that the online video editor InVideo is really worthy of attention. It is simple and convenient, you can use it from any device and browser. The only requirement is an internet connection. To get started, you can test the free version, in which, by the way, a very extensive functionality is available. The paid version gives you access to all premium templates and many other features. For example, it can be export from iStock, Shutterstock, creation of high-definition video, no watermarks in the finished video, etc.