Adam Kurtz "1 page a day"
Adam Kurtz "1 page a day"
At the end of last year, I received a book by Adam Kurtz "One Page a Day" for review. Having glimpsed the description, I realized that she came to me very in time, because the New Year was ahead, and this is the best time to start implement plans 2014 write down your clever thoughts every day.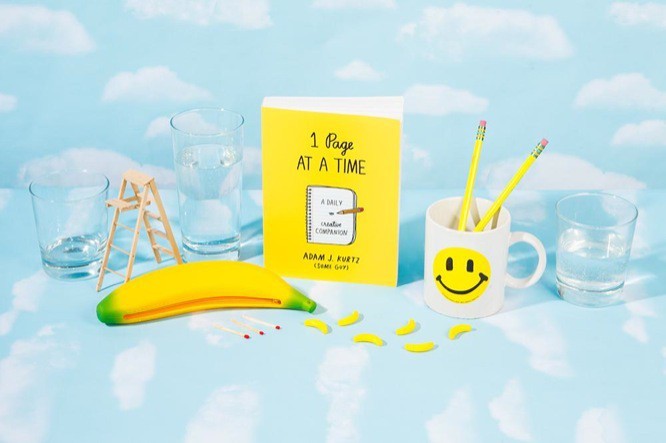 The book by Adam Kurtz "One Page a Day" cannot be called a "book" with certainty, although it contains text and pictures.
It is rather a diary, where the author encourages all readers to write down or sketch something new every day. And in order not to think every day "what to write interesting", on almost every page Adam carefully identified various questions, answering which you can start writing – the main thing is not to forget to stop, the pages of the diary are not so big 🙂
Who is this book for
Kurtz himself writes in the foreword that he created a diary for creative people – to help them reveal their potential as an artist, to write down important and interesting ideas for further implementation.
But just as in the book "Think Like a Designer" the author encourages everyone to understand the principle of thinking of designers, Adam Kurtz is sure that all people should have the craft of creative thinking, because there are many more creative tasks in everyday work than most people think. Therefore, the book "1 page a day" will be useful both for those who have creative professions and for any other people 🙂
And if someone has long dreamed of starting a personal diary or just writing down something interesting, then it's time to try – you will not have empty notebook pages, but pages with questions suggestive of your day.
Develop imagination
If you already thought that there is no point in buying a diary for the price of a book, then you are mistaken 🙂 Well, how could an experienced designer release just a diary? Of course not!
On half of the pages, you will come across not just calls to write something down, but also to sketch something. Sometimes it will be just lines, sometimes the drawings are more complicated. But the main thing is not to be afraid to try, because this is your diary and only yours! Who cares if, when asked to "draw a person", draw "stick stick cucumber, so the little man came out"? 🙂
Book interactive
In addition to all of the above, the author invites everyone to share some of the completed pages of your diary.
For example, by tag # jk1page you can find several dozen photos of the first such page, on which readers answer the question "What are you doing":
# jk1page "What are you up to?" Page 14 of 365 #operationhappymavis pic.twitter.com/dDVG60LZ4N

– Maysilee (@Mavishxx) January 14, 2015
# jk1page Keeping stock at what matters the most: 2 have fun in life! at #Treehouse #lakezurich w / our lil munchkin pic.twitter.com/3Ij9Ea00dp

– NeliaB (@NeliaBernabe) November 29, 2014
# JK1PAGE pic.twitter.com/HR9lWR9HDy

– Bekah Raichel (@ BekahRaichel3) December 8, 2014
An excellent day planner?
In my opinion – yes, "1 page a day" will serve as an excellent reason to write a couple of lines about your life, work and interesting events.
In addition to the text, I am sure that by the end of the book your imagination will be more developed than before reading it, because on the pages you will find many funny tasks from Kurtz of the kind: connect the dots and finish drawing a character, draw something on a specific topic, and so on.
And just imagine how interesting it will be in January 2016 to flip through the book "1 page per day" you have already filled out and wonder how much has happened in a year!
To buy a book
The book is available for ordering at Ozone and in many offline stores.
PS: by the way, the first 30-40 pages are not difficult at all, so if you buy a diary in January-February, you won't have any trouble filling in the missing pages.
…