20 Resources Every Graphic Designer Should Know
20 Resources Every Graphic Designer Should Know
The profession of a graphic designer implies a unique cocktail of creativity, skill, patience, communication skills and a share of business acumen, and all these qualities need constant training and improvement.
Whether you flip through blogs for inspiration, watch instructional videos, read about design trends, design resources are vital to your success.
Regardless of your experience – whether you are going to enter a university or have been running your business for many years, some sites will always be equally useful to you. Below you can see 20 of them.
Your life will soon become much easier.
Kuler (now Adobe Color CC)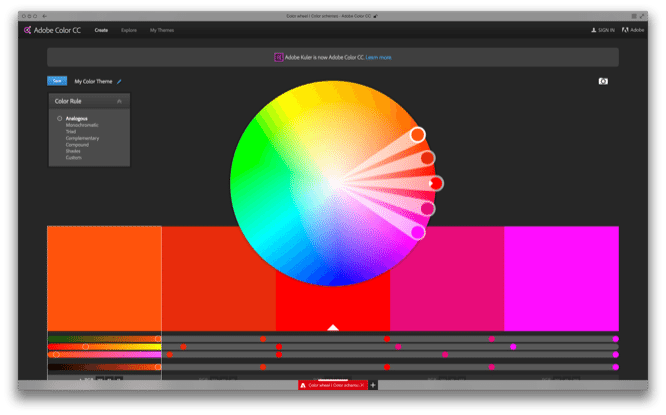 Kuler – the main tool for everything related to color picking. Whether you're trying to figure out the colors that match the ones you've already chosen, or creating a palette from scratch, Adobe Kuler is like manna from heaven to you. By simply moving the dots on the color wheel, you can match the colors you want. Moreover, several selection systems are available to you (sequential, monochrome, shades, triangle, etc.). Kuler will then provide you with the RGB and HEX codes for the selected colors, so you can quickly get back to creating your masterpiece.
Skillshare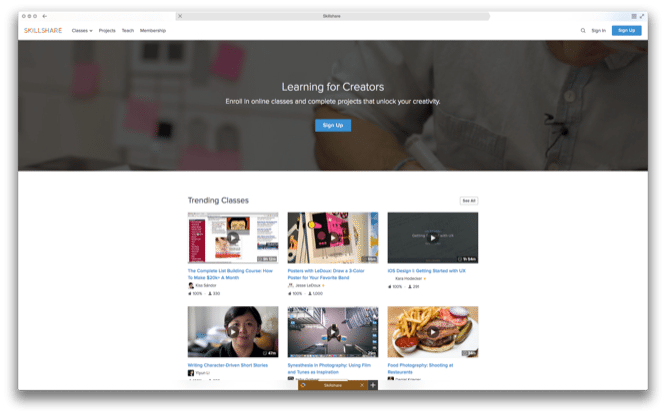 AT Skillshare Masters such as Jessica Hische, Seth Godin, Brad Woodward, Jack Zerby and Tal Safran teach ordinary people everything from calligraphy to coding. And with a ridiculous price tag of $ 20 per course, there is no excuse for those who don't yet know how to create their own website or font.
FontShop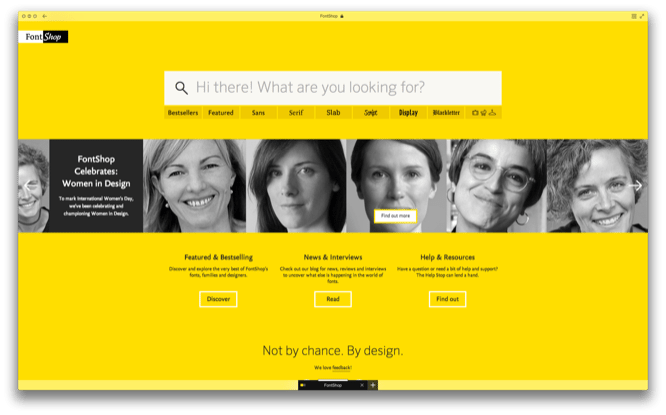 Fonts can be found all over the place now. However, there are very few services that can provide such features as FontShop. The tester lets you see how your work will look, and in the related fonts menu you can find other fonts that you might be interested in. And all this is in FontShop…
Information Aesthetics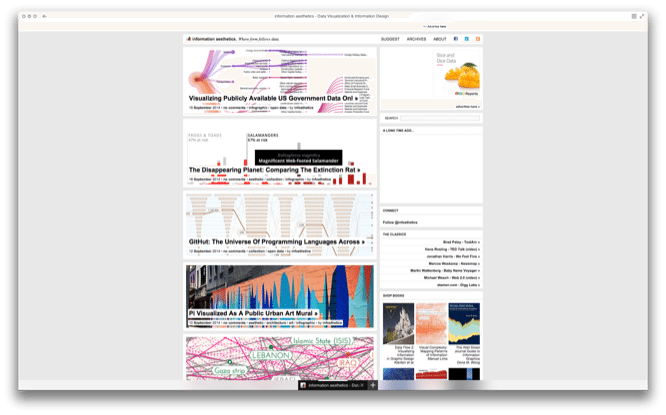 Created by Professor Andrew Vande Moore Information Aesthetics Is the dream of any information designer. Here you can find the best examples of infographics and many sources of inspiration for your next job. In addition to the blog, the site contains a store where you can purchase books necessary for info design (for example, Tufty, DataFlow).
Book Cover Archive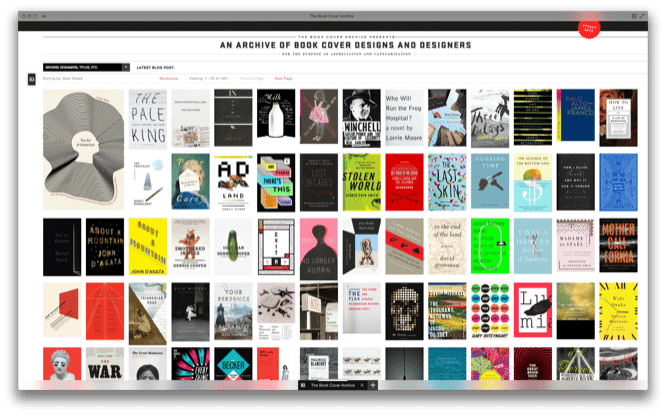 For those of you in book design, whether it's your first experience or your hundredth, inspiration is needed. AND Book Cover Archive brings it to you: it contains thousands of new and classic covers, conveniently sorted by photographer, art director, designer, title, author or genre. This site will not only inspire, but also educate you.
The noun project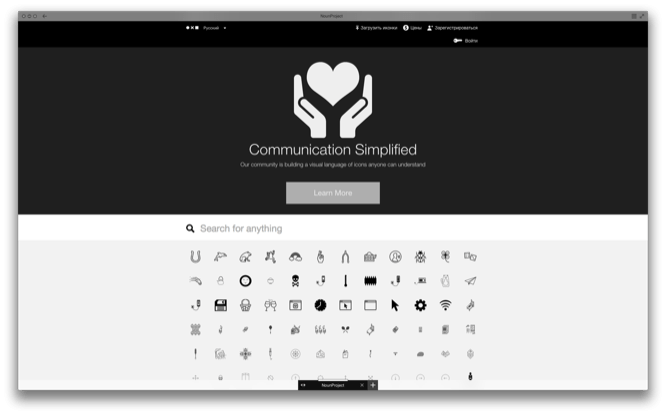 The noun project Is a great resource for iconography. The creators call themselves global translators helping people from all over the world communicate with each other. Their website is extremely useful for designers looking for ready-made icons or inspiration to create their own. By the way – if you are an icon designer, you can upload your artwork for sale.
Fonts in Use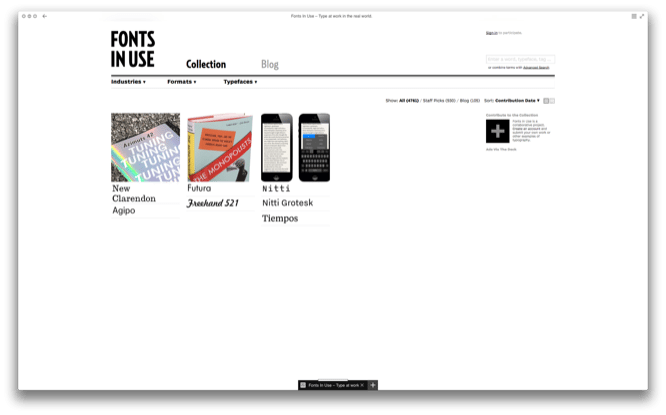 Known for its ability to identify almost any font, Fonts in Use Is a great resource for working with typography. All you need to define is upload a font image.
Brain pickings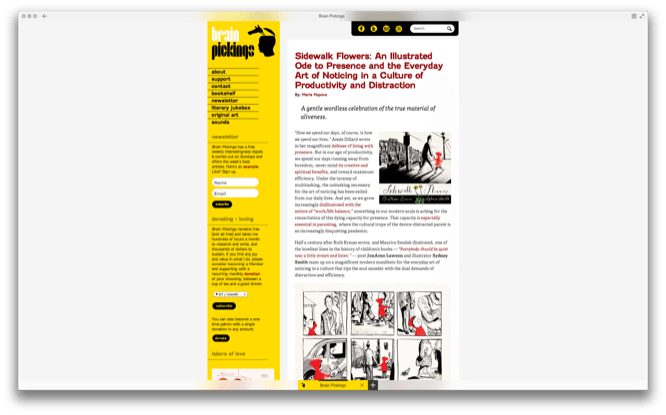 Maria Popova's website is designed for creative people seeking to expand their horizons. Although it includes more information for general creative development and inspiration than graphic design, Brain pickings is still important and interesting.
Grain Edit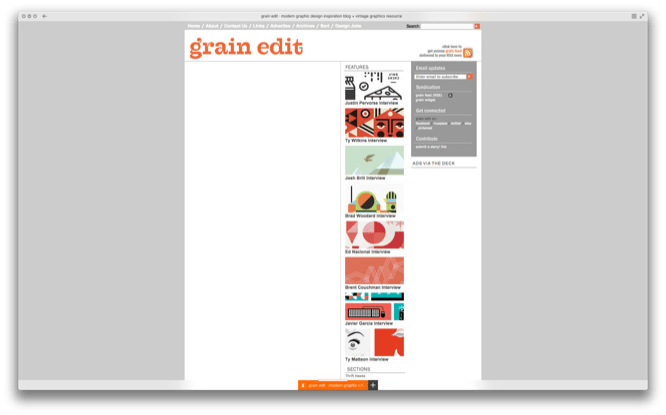 Grain Edit founded almost 10 years ago. Its focus on design inspired by the 50s and 70s makes it the best resource for those looking for good retro. Site editor Dave Kazner conducts thoughtful interviews with designers, talks about new trends, reviews and gives insightful advice.
Awwwards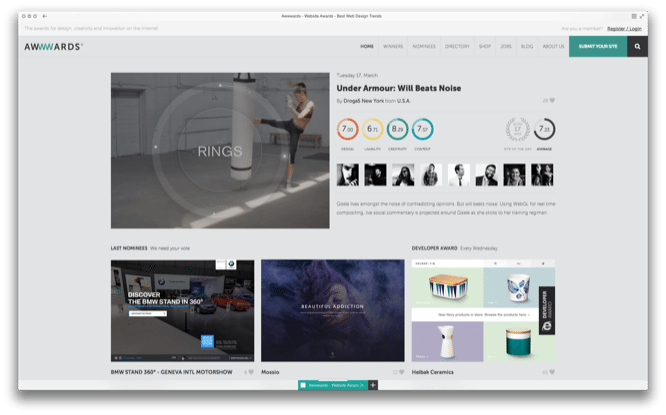 There are many design awards, but there are not many sites on this topic. Awwwards Is like "hot or not" for web design. It allows users to vote on work and then picks the best designers by day, month, and year.
It's nice that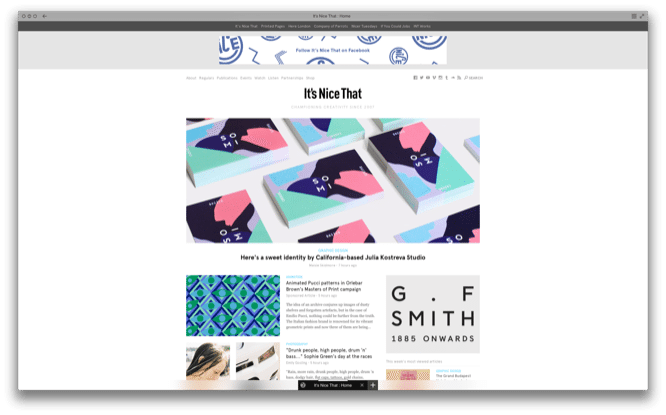 Founded in 2007, It's nice that is a news resource about art and design. The project revolves around a central blog, but also has a section for events, designer works, and more. From elite to popular culture, It's Nice That has a little bit for everyone.
Digital Arts Tutorials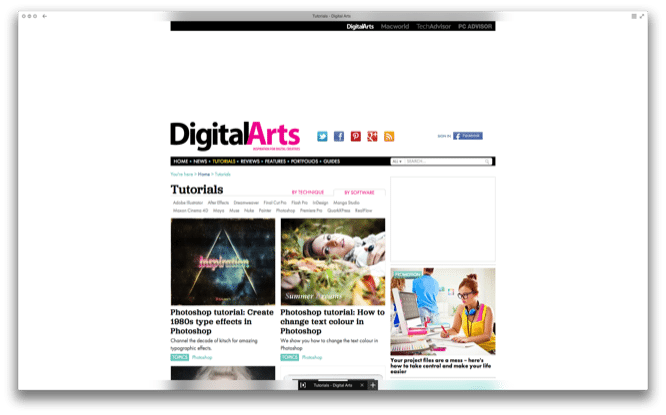 Digital arts – British magazine with print and electronic version. It is dedicated to everything digital and creative: graphic design, 3D, animation, video, special effects, web design and interactive design fall into this category. Not only is the site a great source of news and articles, it also has a tutorials section that contains many tutorials for designers.
Dribble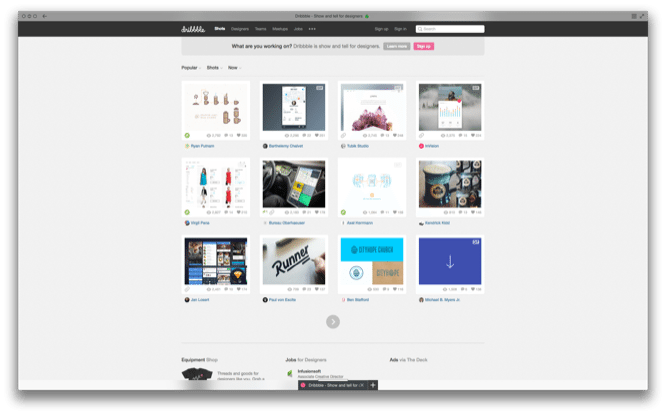 Dribble belongs to the category of sites about which many people know, but not everyone uses it at full capacity. The site allows you to display your work for everyone to see, but one of the most interesting features of Dribble is the ability to search by color. If you see a site that you really like and want to find designs with similar colors, Dribble lets you pick that color and find similar designs. This tool is great for creating color palettes.
Creative Communities on Flickr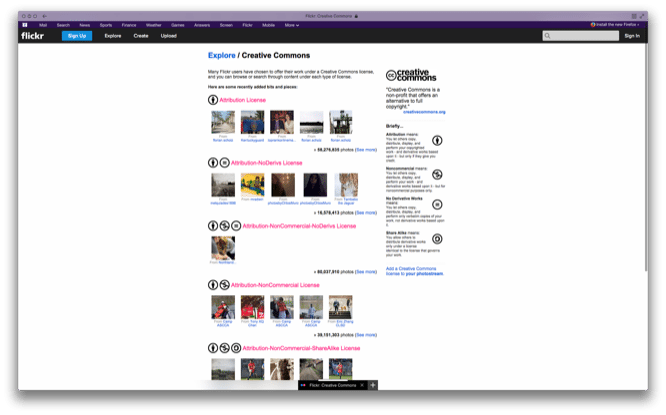 We all know Flickr – it is needed for storing, organizing and sharing images. Flickr's creative communities are a great way to find inspiration and share your work.
TutorialZone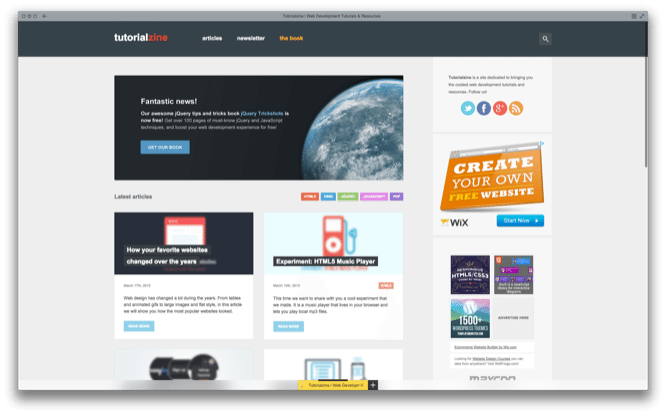 TutorialZone offers a wide range of tutorials and resources for developers and designers with a focus on web design. This resource aims to create the best web development for the masses. The tutorials here are very thoughtful and easy to understand. The resource also provides a demo version of each course, so you can see what awaits you before you start.
Tutsplus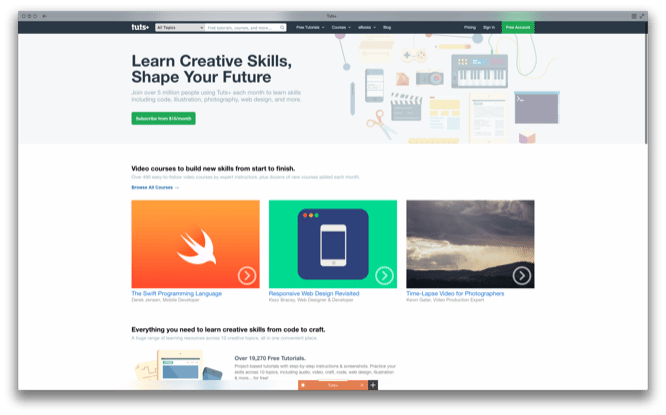 Tutsplus – a huge community of designers, programmers, illustrators and representatives of various other professions who write paid and free lessons, the complexity of which ranges from the most simple for beginners to quite complex ones that will be interesting to perform even for professionals.
Lynda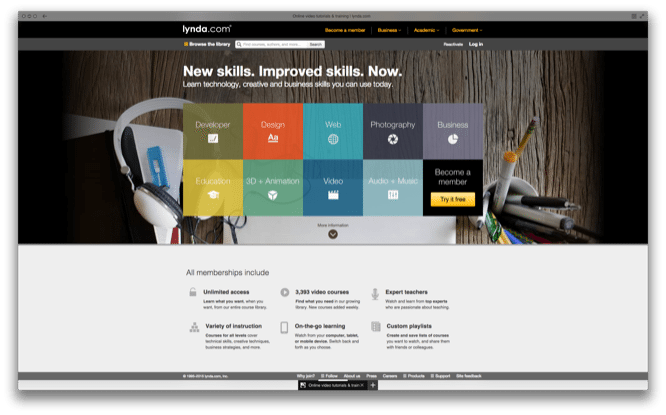 One of the best learning sites of our time, Linda can teach you what you need to know about design: InDesign, Flash, coding, layout, typography, printing technology, project management, and business solutions. If you are hungry for knowledge, Lynda will become your best friend.
Typeify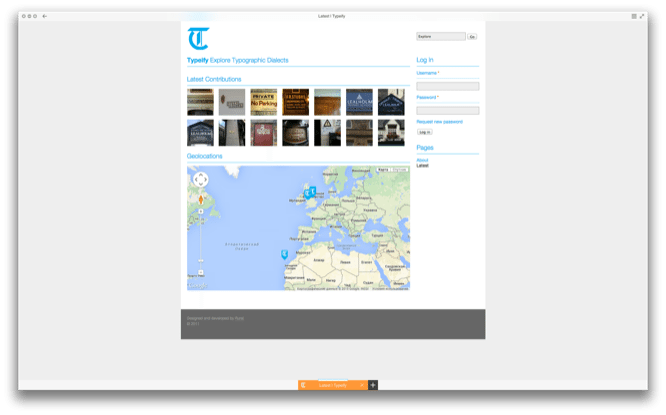 An extremely smart typography site. By allowing users to define their geolocation, it creates a virtual typography map that tracks font usage around the world. Typography has a lot to do with culture, and thanks to Typeify, users can see where certain font styles are more popular.
RIT Design Archives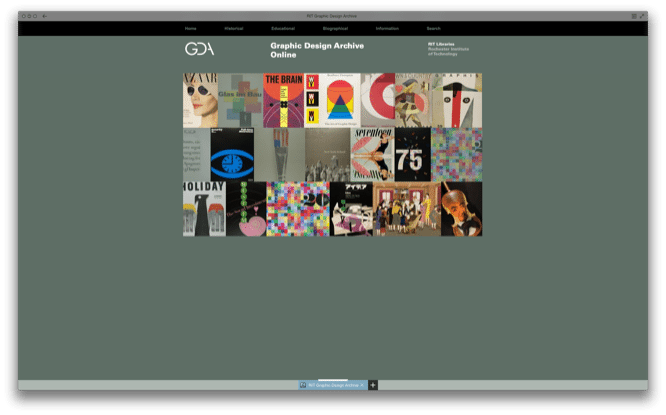 Rochester Institute of Technology may not be the most famous school of graphic design, but its archives are astounding. They contain the work of over 25 designers, including Saul Bass, Will Burtin, Estelle Ellis and many others. Thus, the archives RIT Design Is a must-have for designers looking to expand their horizons.
Typophile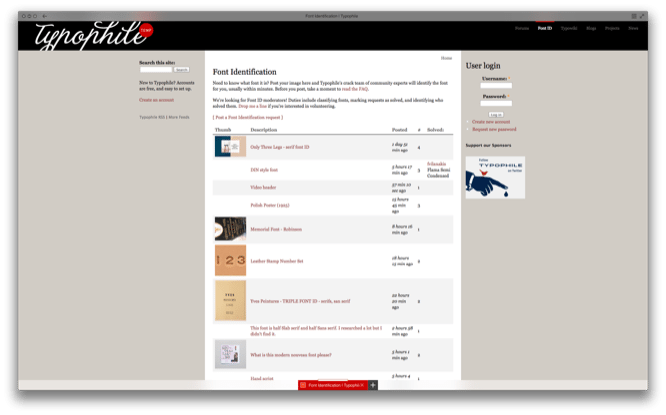 Trying again to identify the perfect font for your next project? Font identification Typophile – what you need. A large number of users and experts will help you solve almost any typographic problem quickly and easily.
Author: Vasily Fedotovsky
…