18 useful resources for working with color
18 useful resources for working with color
If you are a designer, then you probably have a need to find harmonious colors for a particular project.
There are a lot of books and courses on the topic of color, but the task remains a task, especially when the project is on fire and everything needs to be completed urgently.
So, specifically for these purposes, there are online services that will help you in the selection of colors.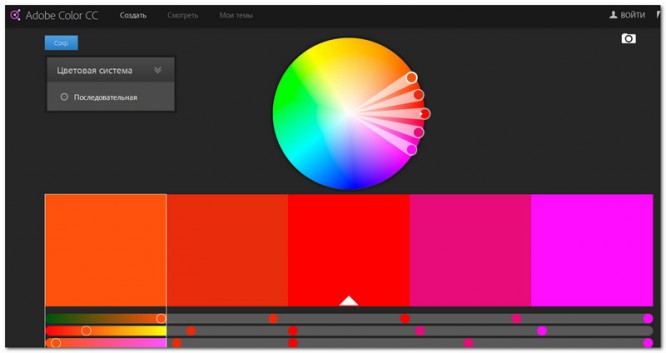 Colorhexa
The site gives a lot of useful information on any color: decomposition into basic colors, codes in different coding systems, basic color schemes, alternative colors, examples of text with this color, shades, tones, and even how people with visual impairments see this color.
Cohesive Colors
Designer Erica Schunmaker shared a design life hack. To achieve coherence and harmony of any color scheme, she suggests overlaying a color (orange, for example) over the scheme and adjusting its transparency.
Htmlcolorcodes
The HTML Color Codes resource provides you with the entire set of tools for working with colors on the Web: translations from one color representation to another, color picker, color chart, and even many tutorials about colors. Very cool.
Colrd
A luxurious online color tool! Palettes, colors, patterns, everything is customizable, laid out, divided and calculated from a given picture! More convenient colorlovers in some aspects, more flexible than kuler! Delight, gentlemen!)
ColourLovers
A social network to come to for color inspiration and to learn about current color trends for both personal and professional projects. The COLOURlovers community of talented and enthusiastic developers creates colors, palettes and patterns using tools available online.
Gradients
24 luscious gradients from designer Luke Davies.
Сolourco
The most useful Web-tool is simpler than which it is difficult to think of anything. This resource allows you to select color harmonics by simply moving the mouse across the screen. If you are satisfied with the color, just press the left mouse button, the screen will split into two and you can continue to select the second color. third and so on.
Webcolourdata
An excellent resource that analyzes the color palette of any site and gives it to you with a head, a color wheel and a histogram. Not the first picche – the main page, the second – the analysis of my blozhik (yes, he does not disdain a trifle either 🙂
Color.hailpixel
This is one of the tools that a designer should always have at hand, and Color by Hailpixel is definitely worth paying attention to. The website will open and show you a blank screen with a single black link (# 000000). As you move the cursor around the screen, you will see how the background color changes, and the window in the center will show the corresponding hex-code of this color. Clicking with the mouse will create a strip of the current color with the numerical value of this color.
Colorotate
Using the app, you can quickly see the multidimensional nature of colors and the relationship between colors. Palette colors are presented in 3d form. Created palettes can be imported or exported to the Adobe Swatch Exchange (ASE). ColoRotate has its own community, where you can view topics created by other users.
Kuler
Kuler is a web application that allows you to create and view your color palettes as well as palettes created by other users.
Colorschemedesigner
This service is especially useful for web designers. It allows you to choose a color model for the future site.
Colourlovers
COLOURlovers provides more than just a way to find color palettes. It is also a place to interact with others to discuss color-related topics. There you can also read interesting articles about color.
Copaso
Here you can create your own color schemes. You can also upload a photo and split it into color pixels for color swatches. And then save and load it in a convenient format.
Colorblender
Completely free and most importantly online, it allows you to create and save harmonious color combinations, both automatically and manually. With three RGB or HSV sliders, you automatically get a harmonious six-color combination and then customize them to your liking. Colors are automatically rendered as HTML color code and RGB code, and can also be exported as Photoshop (.ACT) and Illustrator (.EPS) color tables. In addition, there is a function to compare the color with a standard pontoon. You can store your palettes directly on the site, giving them names convenient for you. Also on the site you can find a lot of ready-made palettes for different occasions.
Colormunki
ColorMunki allows you to search for colors from built-in libraries, as well as using keywords.
Colorsontheweb
A useful service that helps you choose the right colors and shades. The interface is intuitive, there shouldn't be any difficulties.
Colorexplorer
Simple, nice interface. There are built-in color libraries and it is possible to create your own. The feature set is well organized.
Cover photo: ShutterStock
…