10 useful books on web design, typography, clipart and creativity
10 useful books on web design, typography, clipart and creativity
Today's book selection opens with interesting material about fonts and typography. Useful for those who see an art object in letters and who use all typographic means to create their own aesthetics. If you want to know what will happen if you cross design with humor, then the next book on design and creation is for you – tips, jokes, comics.
Further, the world famous author, based on research in psychology, brain research and social psychology, outlined the basic principles of design. For the site to attract customers, it turns out, it is enough to make its appearance evoke positive emotions. How? Let's learn from the book!
The next book is devoted to typography – the art of typing and typesetting works of print, which has an artistic and technical aspects. Further, you can learn a lot of new and interesting things about graphic design of the 21st century, clipart, design and advertising, modern mobile web design and a profitable design studio.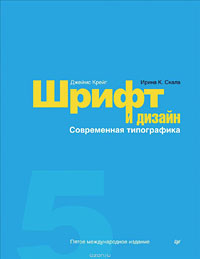 1. James R. Craig, Irina Skala "Font and Design. Modern typography "
Buy: Ozon.ru, Piter.com
To read: Piter.com
Type design and typography is a constantly evolving and changing art, and each generation of designers brings something new and progressive to it. Some designers embrace change and freedom to experiment, while others prefer the traditional approach. Still others believe that the old and the new can coexist in order to enrich and diversify the design as a result.
One way or another, there is no single point of view when it comes to typography. However, one thing is clear: the type is no longer required to be "invisible" and remain just a modest means of conveying the meaning of the text. Today, a font can be expressive, funny, challenging, daring, and at its best, it can be an independent art object. The modern digital artist must be open to everything new, use all typographic means of expression and create their own aesthetics based on them.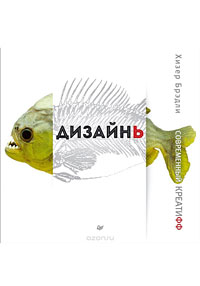 2. Heather Bradley "Design. Modern creatiff "
Buy: Ozon.ru, Labyrinth, Piter.com
To read: Piter.com
What happens when you mix design with humor? A useful, all-natural guide to humor in design, sulfate and paraben free. You'll find plenty of tips, jokes and inspiration from the best design agencies, freelancers, and professional comedians. Discover 42 Principles of Freaky Design to transform your approach to visual communication from "Come on" to "Ha ha ha." Find out what to tell the customer to invest in your fun idea.
Do you know that the first comics appeared over 50,000 years ago? It doesn't matter who you are – an aspiring designer, a professional in your field, or just love to watch funny pictures – you will enjoy this book. Stop thinking seriously about design!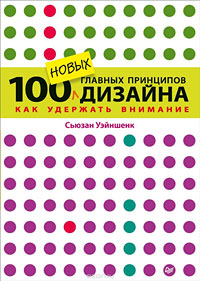 3. Susan Waynshank's 100 New Design Principles
Buy: Ozon.ru, Piter.com
To read: Piter.com
Susan Waynshank, Ph.D., wrote the sequel to her legendary best-selling 100 Core Design Principles, drawing on the latest discoveries in psychology, neuropsychology, brain research, and social psychology. Since the release of the first book, research has emerged that poses new challenges for the designer.
The 100 New Design Principles continue to uncover the secrets of psychology, neurophysiology, and brain research, and provide you with concise, practical advice to help you create user-friendly and attractive designs that meet people's unconscious needs.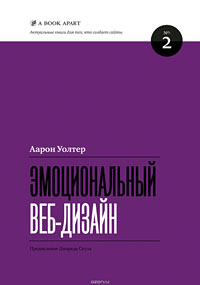 4. Aaron Walter "Emotional Web Design"
Buy: Ozon.ru
To read: Liters
The reality that we all face is company websites, online stores, information portals created as if by a template … Monotony is not the best tool for attracting customers. Emotions are selling! For the site to attract customers, it turns out, it is enough to make its appearance evoke positive emotions. Pleasure, surprise, combined with a unique style – these are the basics of emotional design, and this book offers to master its basics.
On its pages, you will find a detailed description of new mechanisms of interaction with your audience, as well as practical recommendations on how to win the hearts of customers.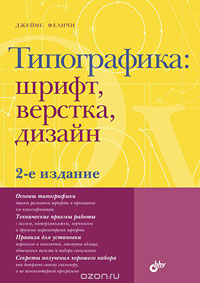 5. James Felici "Typography. Font, layout, design "
Buy: Ozon.ru
To read: Ozon.ru
The book is dedicated to typography – the art of typing and layout design, which has artistic and technical aspects. The considered aesthetic principles of choosing and using fonts for print and display are supported by a lot of information, rules and subtleties of professional computer layout that meets modern standards.
The material is supplemented with information from domestic specialists. The second edition covers general-purpose techniques for working in the latest versions of major layout programs for Mac OS and Windows, Unicode and OpenType fonts, extended character sets, character search techniques, and the latest information on web typography (including CSS3).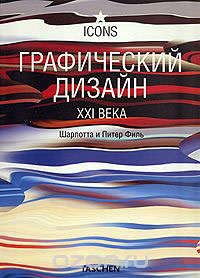 6. Charlotte Phill, Peter Phill "Graphic Design in the 21st Century"
Buy: Ozon.ru, Labyrinth
To read: –
Graphic design has changed dramatically over the past decade, with pixels and computer programs replacing pencil and paper. It was graphic design that was most influenced by the advent of computers, and therefore this book is devoted to the philosophy of people employed in the field of graphic design. The choice fell on forty-five designers who are most looking to the future.
From the Netherlands and Switzerland to America, Iceland, Japan and Australia, this is a true designer show showcasing a universal passion for the visual form of communication.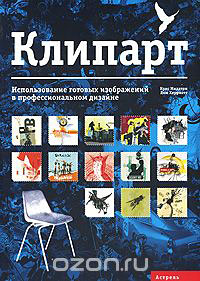 7. Chris Middleton, Luke Herriott "Clipart"
Buy: Ozon.ru
To read: –
This publication aims to inspire designers and illustrators by showing how the use of ready-made images is no longer the lot of hobbyists. Clipart is one of the cornerstones of modern graphic design and illustration, and is based on digital art. They are needed for a variety of techniques and allow an incredibly wide range of graphic styles to be addressed.
This book contains not only examples of work from which to draw inspiration, but also ways to create your own original works. In addition to colorful illustrations with an indication of their source, you are offered interviews with professionals who reveal the secrets of their success. This publication will become an indispensable assistant to the designer and illustrator thanks to practical advice that understands real examples, and a unique guide on where to look for cliparts of various styles.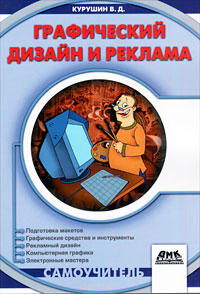 8. Vladimir Kurushin "Graphic design and advertising"
Buy: Ozon.ru
To read: –
The book tells about everything a novice designer needs to know who decides to try his hand at information technology. The focus is on how to design and create visual messages distributed through modern media: newspapers, magazines, advertising publications, computer networks, etc. The article considers the use of various types of applied, business, drawing and design graphics, describes the methods of text layout and processing of photographs intended for printing and electronic mass media.
A separate section is devoted to the design and psychology of perception of print advertising. It describes in detail what information design technology is, and describes the features of work in this area. On the example of using popular design programs, the operations of scanning, scaling, transforming, copying, duplicating, editing, composing, importing, exporting, recording and printing computer graphics are considered.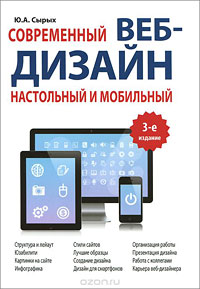 9. Yulia Syrykh "Modern web design. Desktop and mobile "
Buy: Ozon.ru
To read: Ozon.ru # 1, Ozon.ru # 2
This book is for aspiring web designers. It describes the basic rules and subtleties of design work at all stages of website development, from setting a task, selecting material and developing a layout, to testing a finished website and publishing it on the web. The reader will find here knowledge and recommendations that are critical for a successful and competent designer, detailed descriptions and examples of the main modern website styles, many small but very useful tips.
In general, the book will help a novice specialist not only successfully draw a good commercial design, but also come to an understanding of the essence of web design, master the basic principles of developing design layouts for sites in various styles. All this will allow him to successfully move on, grow creatively and further develop his own styles of website design.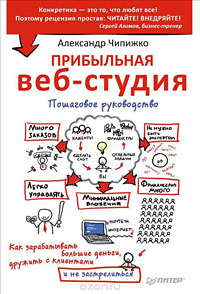 10. Alexander Chipizhko "Profitable web studio. Step by step guide "
Buy: Ozon.ru
To read: Ozon.ru # 1, Ozon.ru # 2
This book is for young and not so young entrepreneurs, freelancers, programmers who want to start their own business. A book for those who are tired of existing. Work for food. Draw and program for a penny. Believe me, I have seen a huge number of people who simply do not know their worth. Also, this book is for people who want to save their time by adopting someone else's experience. I have spent many years understanding very important things that I am talking about here. And they can really greatly change the way you think about business, yourself and your life.
Source: designonstop.com
Cover photo: ShutterStock
…