Wix – An easy-to-use and powerful website builder
Wix – An easy-to-use and powerful website builder
Wix – probably one of the most famous website builders now, which, however, was deprived of our attention and we did not write anything about him.
Therefore, today we decided to correct this defect and explore the possibilities presented by this promoted online editor – is it so good and is it so easy for them to create a website that will be no worse than that created by a team of professionals?
Getting Started with Wix
In my rather long history of interacting with many online and offline services to create websites without the need to write code, I can say that Wix is ​​one of the few projects that is loyal to new users who are not gurus in site building or experts in an instant understanding. interface of the new online editor.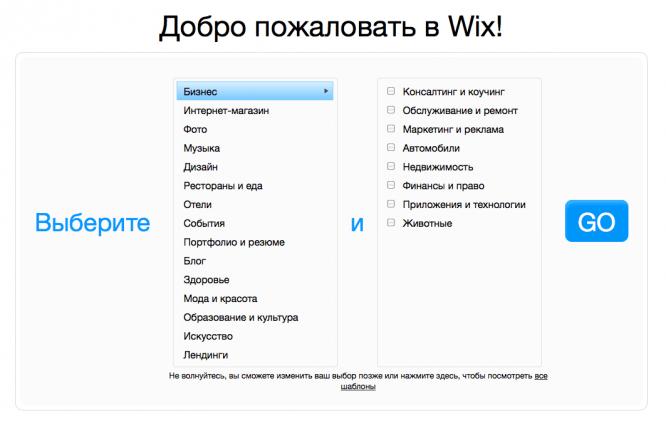 What exactly is this manifested in:
1. After registration, you are not immediately given access to your personal account, where you see more than a dozen different buttons, about which you know about … nothing. Wix starts from afar and first takes an interest in your industry in order to suggest the most suitable ready-made website templates for you;
2. The Wix training center has collected almost 50 video tutorials that will clearly tell, show and teach you how to use all the available website builder tools;
3. A clear interface in more than 10 languages ​​will allow almost any person to cope with it, and after practicing for a while, anyone at all;
4. The tooltips in the constructor after its first visit will be very useful, because while getting used to the interface, the buttons you need are hard to find.
Constructor features
We have already written several times about what similar online visual layout editors are, so we will not go into details, let's just say that the capabilities of Wix are in no way inferior to either Tilda, or Readymag, or Webflow, and even more so to any offline editor …
Each of the listed services and Wix in particular are tools that should be used to solve specific problems. And since these tasks are determined by you yourself, then which tool to choose is your business 🙂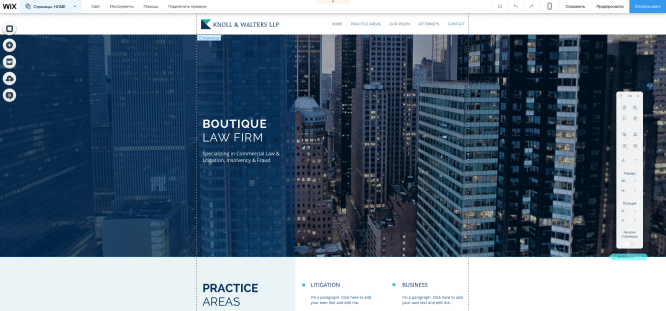 Any tool can be mastered, however, some will take a little more time, some a little less.
Exploring the Wix Interface
It is best to start the first acquaintance with the functionality of the designer and its capabilities with ready-made templates, since they already have all the necessary pages, their layouts are structured and you only need to insert your own pictures and replace the text.
This approach will significantly save time when you first meet a new service. In the future, when you transfer your own design without a template to Wix, you will already know all the buttons and their location necessary for work.
Add-ons catalog
Separately, it is worth noting a very developed and functional add-on store called the Wix App Market, which will be useful to those users who are not enough of the basic functionality of the builder.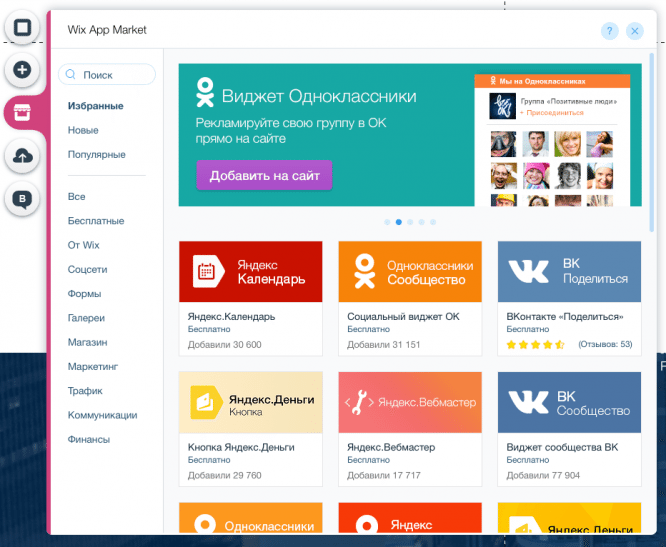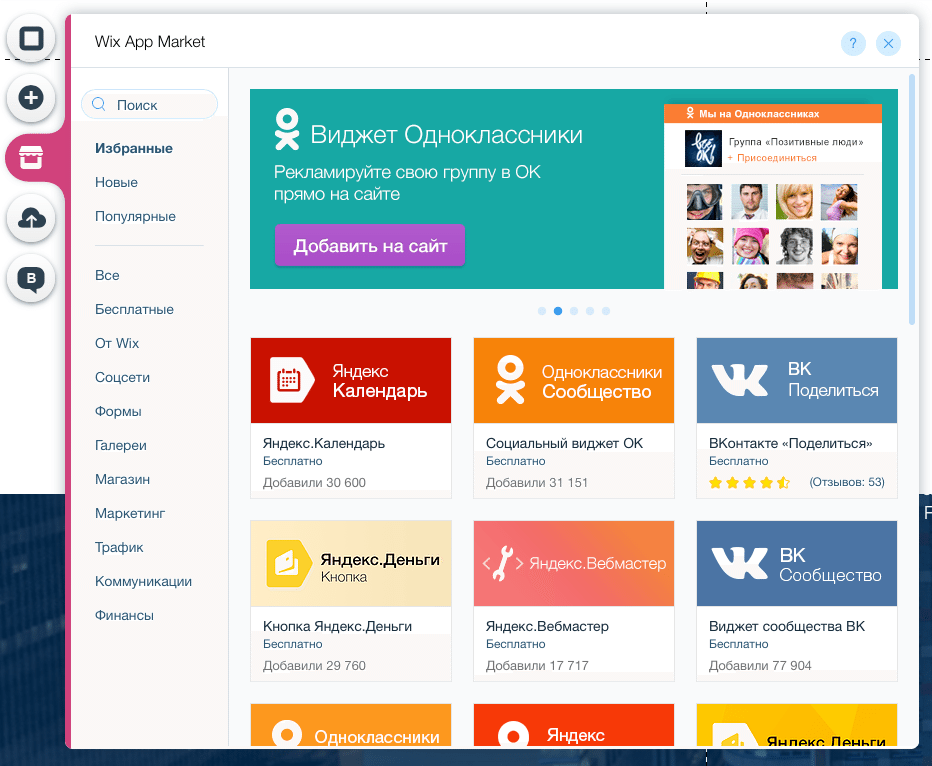 In the add-ons catalog, you can find all imaginable and unthinkable plugins that will help expand the already rich functionality of Wix: custom galleries, subscription forms, online store functions, pop-ups and much more.
The store is so rich in choice because many third-party developers are actively uploading add-ons of their own design, so even though all the functionality of Wix and 90% of the add-ons in the Wix App Market are free, you will have to pay extra for something super-functional.
Inspiration for great accomplishments!
By the way, you don't need to look far for inspiration – the Wix website has a section with examples of unique sites that are created exclusively using standard Wix tools: using their examples, you can appreciate all the possibilities of the builder, as well as get ideas for the next project.
Any template you like can be used as a basis for your own project: you will have access to the template according to which this or that project was created.
There are a lot of ready-made sites, like templates, in the Wix library. Therefore, there will be no problems with both the search for ideas and ready-made projects for use.
Free and premium accounts
All registered users immediately have access to 100% of the site editor's functions, as well as all templates and add-ons from the add-on store. Without paying a penny, you can create your first website, try out the Wix functionality and understand whether it suits you or not.
On a free plan, you will receive a domain like username.wix.com/yoursite, where you can place your project. Of course, the look of your site will not be the most presentable, therefore, further – the paid tariff.
Anyone can find a tariff plan for their tasks: here you can only buy hosting for the site for 123 rubles per month, or buy hosting + domain as a gift + advertising promo code for 375 rubles per month.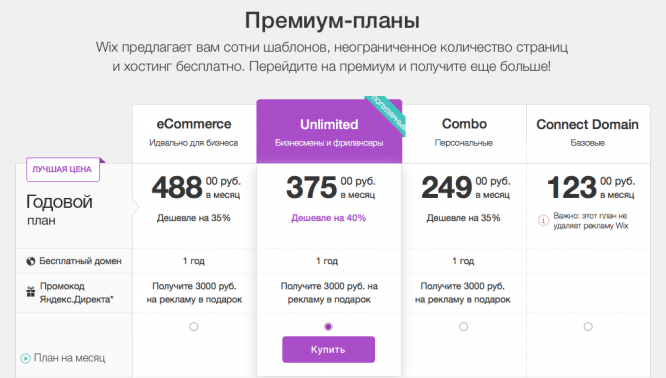 In addition to the ability to connect your own domain, a premium account also allows you to:
– remove Wix ad units;
– remove speed limits;
– almost infinite amount of hard disk space for data storage;
– Google Analytics connection;
– receive gift vouchers;
– adding your own favicon;
– publication of an unlimited number of pages;
By the way, Wix often gives out coupon codes that can help you save a lot on paying for your premium account.
As a result
Wix is ​​not to say that it is difficult to use, that it has limited functionality, or that it will not help you create an outstanding website. No, you can use it to create a website of any complexity and subject matter: from a designer's or photographer's portfolio to a small online store that will function successfully, take orders and bring in stable income.
And if you take into account one of the most loyal attitudes towards new users, a large collection of video tutorials and interface translation, Wix can become a good tool not only for professional designers who do not want to learn to code (and why is it needed now), but also get high-quality implementations of their own projects.
Author: Sergey Stepashov
…