Julia Rothman "Creative Bachelorette Party"
Julia Rothman "Creative Bachelorette Party"
Cafe, cinema, skating rink? Where to go with your girlfriends this time? Have an unusual bachelorette party with paints, crayons, and other materials. Perhaps you will like it so much that meeting with friends will happen more often!
The book contains 10 ideas for creative bachelorette parties with a detailed description of the materials used and the whole process.
Change the format of old girly gatherings and add an element of creativity to them. In addition to being fun, it will also be useful. After all, such a joint activity also has a therapeutic effect: relax, give free rein to creative energy and draw inspiration from joint work.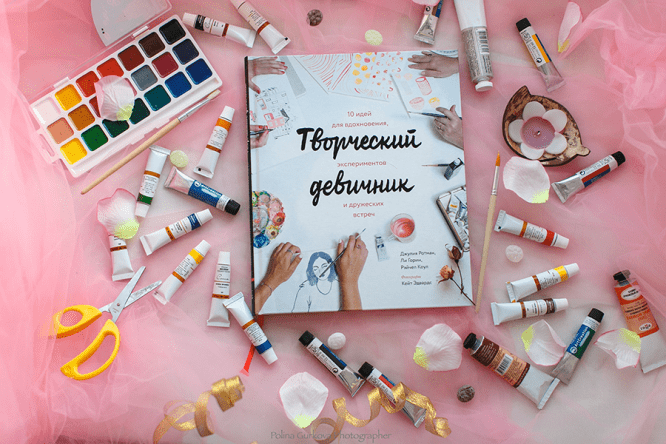 Who is this book for?
For those who are ready to share the joy of creativity with friends. For girls only? Not only! It's just that the authors of the book are sure: one more common feature (the same gender) makes the creative process more comfortable.
What is this book about?
Three friends – Julia Rothman, Lee Gorin and Rachel Cole – once decided that getting together and creating is no worse than going to the cinema or in a cafe. The book presents 10 ideas of "creative bachelorette parties", for each of which girls invite experts in a particular creative field. They share their successes, observations, talk about the materials and draw conclusions.
Among such meetings there are home parties, and a visit to the studio of one of the participants, and even "going out" – a bachelorette party in a cafe, where you can see people and show yourself (most likely, together with your work :-))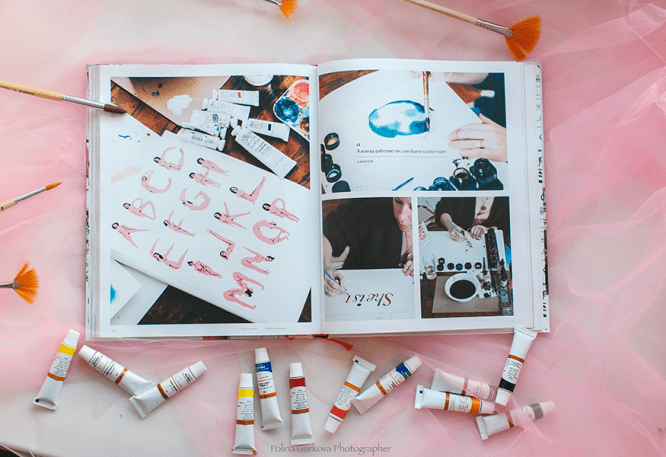 Why is it so unusual to date?
Every creative person knows that working alone is better. But at some point, a communication crisis sets in and you want to break out of the customer's requirements. At a bachelorette party, you can forget about the rules and regulations for creating illustrations, and just enjoy the process, enjoying drawing.
Such meetings will help you look at your creative process from a different angle, come across a fresh idea or remember a long-forgotten old one.
A creative bachelorette party is an unscientific experiment, a great opportunity to try other materials and share your observations and experiences. Teach each other something new!
Together with children
One of the chapters is devoted to a creative evening with children. The authors recommend that such classes be conducted with children aged five and over. When adults and children start to create together, age boundaries are erased, artists sit at the table. Each of them will be able to teach something else.
Conducting creative activities with children is a great way not to think about the rules and plunge headlong into the process, forgetting about chiaroscuro, volumes and proportions. Plus, this is a great chance to try out materials you haven't dealt with in a while.
Simple shapes, bright colors and incredible fictional characters are the main features of children's creativity. Go back in time, feel small and tell your child that you loved to draw as a child.

How was the book made?
It is an impressive size and bright hardcover book. Inside there are many color photographs showing the authors of the book and their guests at work. The colorful design and quality publication make the book a great gift.
Outcome
A big beautiful book about how to spend time with your friends in a new way. Examples from the book can also be taken as a model for conducting general friendships, and not just bachelorette parties. The book will be a great gift for a creative girl.
Buy the book "Creative bachelorette party"
Julia Rothman's book "Creative Bachelorette Party" is available for purchase in the online stores Ozon.ru and Labyrinth at a price of 1010 rubles.
…