Billy Showell "Portraits of Flowers from A to Z"
Billy Showell "Portraits of Flowers from A to Z"
41 master-classes on drawing flowers with watercolors will not leave indifferent any lover of wildlife.
This book will allow you to look at botanical illustration in a different way: deviate from rigid canons and submit to the beauty of nature.
---
"Portraits of flowers from A to Z" – the second guide to botanical illustration from the famous British artist Billy Showell, with whom the Russian reader is already familiar from the book "Portraits of Fruits and Vegetables", published by the publishing house MYTH in the summer of 2016.
Who is this book for?
For all lovers of botanical illustration. In my opinion, this book will be useful not only for those who paint with watercolors (although, of course, it is designed specifically for watercolors), but also for botanists who work in other techniques. Basic information about the structure of flowers and some interesting features of different species will enrich your knowledge of colors and allow you to achieve much-needed image accuracy.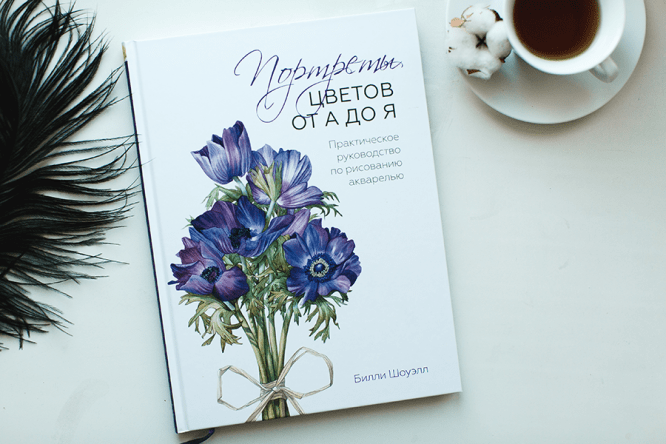 What is this book about?
This book is about the beauty of nature. And how to portray her. People have loved giving and painting flowers for centuries. Billy Showell discusses in his book the main points to pay attention to when portraying such a capricious nature.
As in the previous well-known book by Billy Showell "Portraits of Fruits and Vegetables", it covers the necessary materials for work, basic techniques for working with watercolors and features of composition.
How to get by with the minimum number of colors in the palette, but not be limited to a narrow range of shades? Separate pages of the book are devoted to working with color and mixing paints.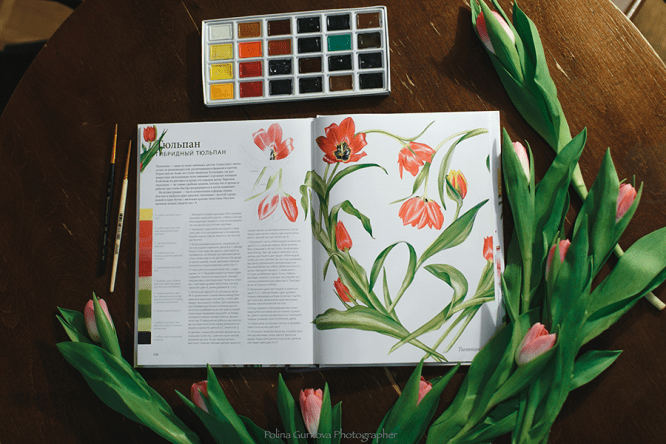 Materials (edit)
If you have read a book about fruits and vegetables, then you can safely flip through the chapter on materials. It has a slightly different design, but the essence is, of course, the same. If you already have your own opinion on the necessary materials for a long time – also scroll through. If not, read it, information about paints, brushes, paper and other materials will be useful for a beginner.
Composition
The chapter on composition, contrary to my expectations, is not copied from a previous book. The principles of creating a flower arrangement have significant features.
The main advice is to choose the right nature. "Start with the flower you like. It is much easier to draw something inspiring than something that was at hand at the right time, "the author advises.
The main tool for working on a composition is a sketchbook. Billy Showell sees the sketchbook not as a ceremonial album filled with colorful sketches, but as a workbook. It should be small, lightweight, and fit into a small purse or large pocket without any problems. It is not at all necessary to make it to order from cotton paper, a relatively thick paper is enough that will withstand light watercolor. You need this "workhorse" to sketch out unusual and whimsical colors that may happen by chance, and to experiment with the composition. The main rules are to carry it with you, sign the shades used and not get carried away with working out the details. Later, in a calm creative environment, you can refine your ideas, but in order to bring them to the desktop, you need to fix them in a sketchbook.
In addition to the article on maintaining a sketchbook, there are equally important ones: "Where to start?" (very important!) and "How to create a good composition." In them, the author will talk about the main rules of botanical illustration and how to break them ☺
Drawing flowers is a kind of meditation, a bizarre nature often dictates what the final composition will be. Therefore, besides theoretical information, you need a lot of practice. Don't waste your time!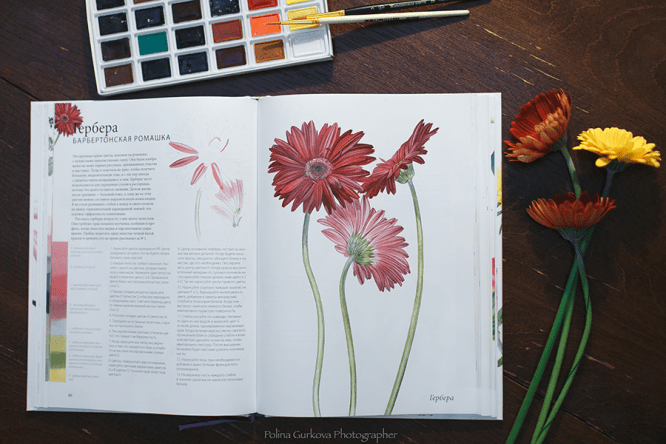 How was the book made?
With taste! Large format, high quality printing and colorful illustrations make this book a great gift for all lovers of botanical illustration. The book contains an alphabetical index that will help you quickly find the right one among four dozen master classes. The abundance of not only author's illustrations, but also step-by-step photographs makes the lessons very understandable even for beginners.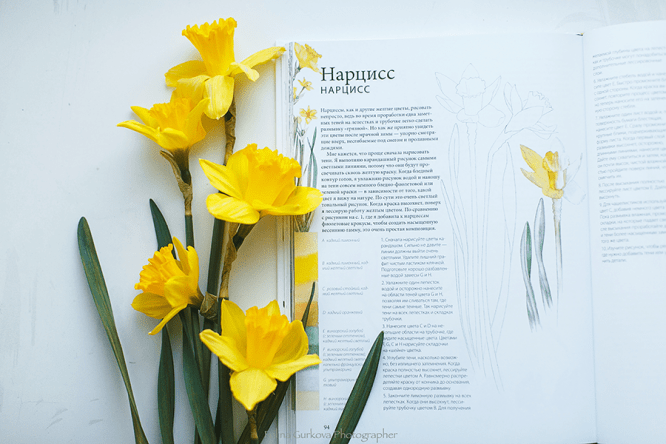 Outcome
The book "Portraits of Flowers from A to Z" is an excellent guide to depicting flowers, including about 40 workshops. A high-quality publication and useful theoretical material make this book an excellent gift for creative friends or for yourself.
Buy the book "Portraits of flowers from A to Z"
The book "Portraits of Flowers from A to Z" is available for purchase in the online stores Ozon.ru and Labyrinth at a price of 850-900 rubles.
Author: Evgeniya Suvorova
…