Anne Swan Botanical Illustration in Colored Pencils
Anne Swan Botanical Illustration in Colored Pencils
An excellent guide for any botanical illustration lover. Colored pencils – such a familiar (but at the same time, well forgotten since kindergarten) material will open up new horizons for you in the development of botany.
In the book, in a bizarre way, two directions converged: the super popular botanical illustration and painting with colored pencils, which so far remains in the shadow of other, more popular materials.
Botanical Illustration in Colored Pencils will help you illuminate ambiguities and look at colored pencils from a different angle.
Who is this book for?
For everyone interested in botanical illustration, as well as for those who decided to master the technique of drawing with colored pencils.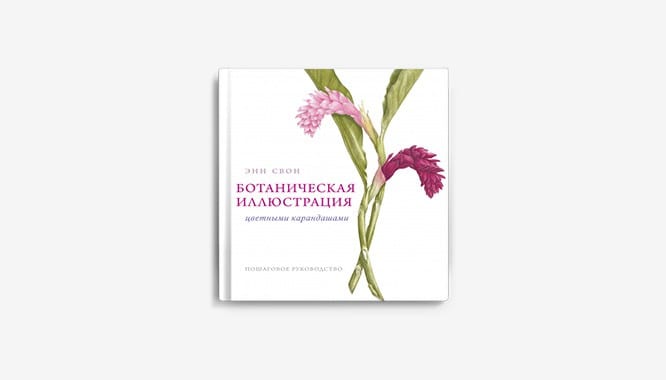 What is this book about?
Ann Swan's Botanical Illustration with Colored Pencils is marketed as a step-by-step guide for beginners. It contains a lot of theoretical information. The author writes about color theory, composition, chiaroscuro, etc. But the most interesting, of course, will be the chapters on the pencil drawing technique: layering and mixing colors. Getting used to pencils is not as difficult as it seems at first, and beautiful illustrations will inspire you to feats. Ann herself is a self-taught artist with a passion for gardening over the years.
Traditionally, one of the chapters is devoted to the review of materials. The main characters are, of course, pencils. Most of these brands are freely available for sale on the domestic art materials market. You can go to any online store with a list from the book and purchase. Also, the author pays attention to paper, erasers and some other tools and auxiliary materials.
There is also a practical part in the book, which is small lessons. Unfortunately, the device of this section disappointed me a little: the first thing to start with is the image of a bearded iris. To repeat the master class, you will need 26 shades of pencils! In my set of 60 pencils, half of the suitable ones were found. In the next lesson, you will need 8 shades of only red to repeat the image of the peppers. That is, to get down to business, you need to be patient and buy or find the necessary materials. On the other hand, the basic techniques of depicting various botanical objects were demonstrated using the example of master classes.
Also, the author talks about the competent storage and demonstration of drawings, which will preserve the saturation of colors and the clarity of the image.
Ann Swan highlights several arguments for using crayons over watercolors, and they are very compelling:
● this material has constancy: once you have mastered the technique, you can repeat it many times, coming to the same result. Watercolor often surprises.
● pencils are malleable, you can correct the drawing with an eraser or thinner
● working with a pencil (and controlling it) is much easier than with a brush: we all use writing utensils from early childhood and have solid experience. Pencil tip does not fluff and fluff does not come out of it
● pencils are portable. Easy to take with you, no need to think about rinsing brushes and palette, no dirt
Also, colored pencils have an advantage over popular alcohol markers: starting with pencils is cheaper, and moreover, they are lighter and more compact.
How was the book made?
The edition delivers aesthetic pleasure: matte hard cover, coated paper, ribbon-style bookmark. Juicy illustrations and pleasant to the eye, well readable font give pleasure even with a simple scrolling. This book continues the tradition of album textbooks. I want to have it on the shelf, I like to leaf through and hold it in my hands, it is convenient to use it and, of course, it is pleasant to present.
Outcome
A beautiful publication that contains basic theory on the technique of drawing with colored pencils, as well as several master classes and many practical tips. The book will allow you to get acquainted with the material, and will also become a decoration of the bookshelf and an excellent gift.
Download the book "Botanical illustration with colored pencils" for free
The book "Botanical illustration with colored pencils" is available for free download at the link.
Author: Evgeniya Suvorova
…