5 best books for inspiration and creativity
5 best books for inspiration and creativity
Now there is such a huge number of publications on creativity that you can simply drown. The lifeline is the books of professionals that will help you get inspired and set you on the path of creativity.
In addition to books, there are also creative notebooks. Everyone chooses what is more in his spirit.
If you have not read these authors yet, then full speed ahead to the conquest and implementation of new crazy and extraordinary ideas!
---
1. Austin Cleon "Steal like an artist"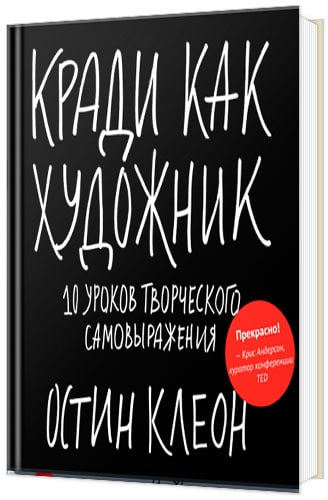 Buy: Ozon.ru
About the author: Austin Cleon is an artist and best-selling author of Show Your Work! and Steal Like an Artist. Thanks to his extraordinary and daring approach to creativity, Austin Cleon became famous all over the world. Needless to say, his books have been translated into 12 languages ​​and are original creative manuals for aspiring implementers. Austin teaches creative lectures and workshops at Pixar, Google, SXSW, TEDx.
Briefly about the book: A cool book that proves that you don't need to be a genius, it's enough to be yourself. In the book, the author gives advice that he himself would not have refused at the time he began to engage in creativity. 90% each person takes from the outside world for inspiration and only 10% are our own ideas. Trying to copy something, we create our own, unique. This is an illustrated manifesto of a modern creative person.
2. Michael Mikalko "Rice Storming and 21 More Ways to Think Outside the Box"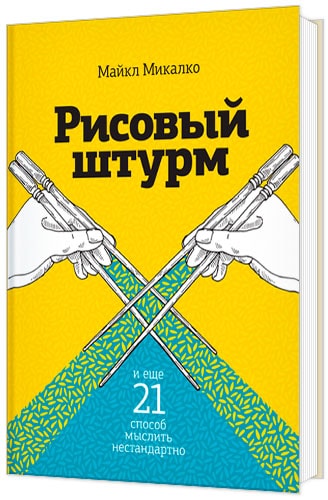 Buy: Ozon.ru
About the author: Michael Mikalko is a world-renowned creativity expert. The author of the books "Games for the Mind", "Training of Creativity" and more.
Michael Mikalko believes that mood influences creativity. Ideas help build a positive attitude! Think positively and generate ideas again!
Briefly about the book: We know that ideas float in the air and are sometimes created out of nothing, the main thing is to catch them with a large butterfly net. Creativity expert Michael Mikalko will talk about this and much more in his book, namely, how to generate real breakthrough ideas. Rice Storm is a book for those who want to create original ideas.
The book presents interesting exercises, puzzles and riddles – all this undoubtedly helps to generate ideas and take them to another level.
3. Marty Newmeyer "Break the Rules"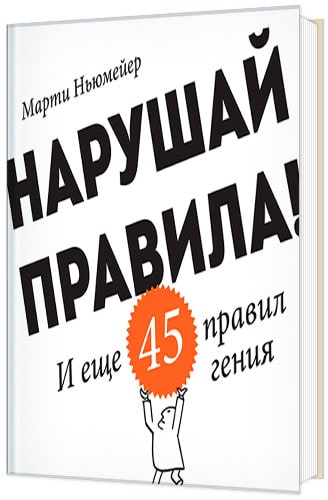 Buy: Ozon.ru
About the author: Marty Newmeyer is a designer, book author, editor, speaker, business consultant and successful entrepreneur. At the moment, he works as a development director at Liquid Agency, a large agency engaged in launching and updating brands, building relationships between consumers and a brand. They work with the world's most famous companies: Facebook, PayPal, HP, Nike, Motorola, John Deere, Walmart. The Silicon Valley Business Journal named Liquid Agency the No. 1 agency in Silicon Valley.
His first book was published in 2003, entitled "Brand Breaking: How to Close the Distance Between Business Strategy and Design," and has since written books on branding and creativity development. Marty Newmeyer actively travels the world, conducts lectures and seminars, participates in conferences.
Briefly about the book: What could be better? I was hooked on the title of the book. In fact, rules are needed to "trim" ideas with a bare mind. The author talks about the rules and tools on how to do this. Another book not only for dreamers, but also for those who want to bring their ideas to life.
4. Brothers MacLeod "A book of brilliant ideas or how to come up with them"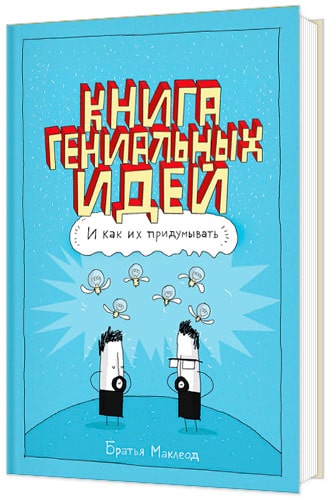 Buy: Ozon.ru
About the author: Illustrator and animator Greg and screenwriter Miles MacLeod have vast experience in scripting, producing and creating animation for television, short films, games and the Internet. They are the writers and directors of BBC broadcasts, have worked with Hit, Entertainment One, Disney, ITV, Channel 4, Aardman, the Royal Shakespeare Company and many more. In 2011 they received a BAFTA award for a project for BBC Learning.
Briefly about the book: Great book to keep you busy. The book features a vast array of exercises, from drawing bizarre creatures and coming up with names for new inventions to creating a map of an imaginary area and designing buildings that don't exist.
In the book you will find a challenge, recommendations and ideas, which will be accompanied by examples of implementation from the authors of the book, which is important. Feed on experience and try to create your own!
5. Mike Rhodey "Visual Notes"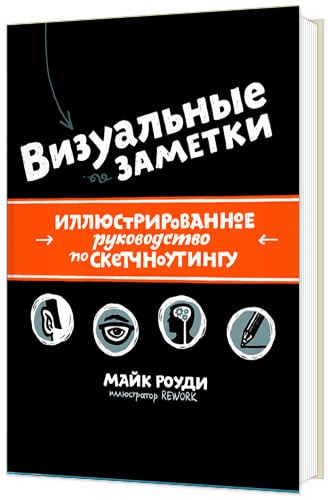 Buy: Ozon.ru
About the author: Mike Rhodey is a designer, illustrator of the bestselling books "Rework" by Jason Fried and "Startup for $ 100" by Chris Guilbeaux, author of the bestselling book "Visual Notes." He teaches visual notation workshops around the world, helping people use visual thinking to generate and share ideas more effectively.
Visual Notes has been translated into Russian, German, Chinese and Czech and has inspired many people to use sketches in their daily lives.
Briefly about the book: A fully illustrated guide to sketching. Why sketches are needed, how to create them, how sketches help to remember information – all this is in the step-by-step instructions for creating sketches. After the author wrote the book "Visual Notes in Practice", there is still work to be done!
Source: say-hi.me
…